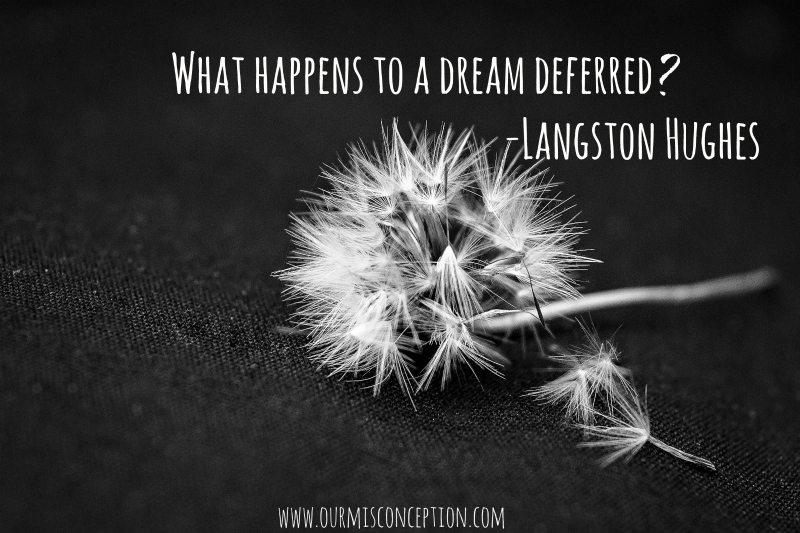 Chris- We were ready for it. It took us what seemed like an eternity to finally have the blessing that is embodied in our Jellybean. And we knew, beyond even the slightest hint of doubt, that we would never ever get to wander down the road of surrogacy again; so we were prepared. When our Jellybean asked questions about a brother or sister, we would humorously deflect until she was old enough for us to explain why her having a sibling was simply not in the cards.
We were ready.
But then it happened. In what we perceived as cosmic coincidence, we had an opportunity to go down the surrogacy path again. We readily abandoned all pre-conceived notions of this not being a possibility, of us not possibly being able or rather "worthy" of receiving such a blessing twice. All of the sudden, it seemed like we may have a different answer to the question of, "Where is my sister?" or "When will I have a brother?" Although it seems early to me, we are getting these questions. We were ready with responses at one point, then, we decided to allow an alternate series of possible answers to those questions.
And everything was adding up. We lawyered up. I deposited my sample. We finalized the contract and timeline. Candace wheeled and dealed with the fertility med pharmacies and saved us a few hundred on our 5 G meds bill. Then it was time for shots. We did that to. A whole new hope necklace with beads we would add on for each shot taken. I even bought beads for the shots our surro would take during the process too. We did the hypodermic disco requisite for fertility injections with a toddler. Then came retrieval. Candace rocked it … and it rocked her. Without her uterus, and with a case of slight overstimulation, she made friends with the couch for a week after the retrieval. But we got embies … that grew to blastocysts … that were subjected to PGS screening … and the primo ones were frozen ready for the chance to become life. That is when things derailed.
The emotion is not quite matched in word.   Maybe imagine your heart being flayed while watching your entire reality be inverted and fragmented into a myriad of undiscernible pieces that simply float in a gray mass about you slicing your essence in intractable ways. That is close. "But Chris, at least you have Jellybean." True. Jellybean is a blessing of immeasurable beauty and happiness. This response is kind of like saying, "OK so you lost your right leg to gangrene, but … you still have your left and isn't that enough." Well intended, poorly considered. No. One leg isn't enough. Not when you abandoned hope of ever having a second leg but were given the opportunity to make a second and crafted what you hoped would be a perfect second leg only to have that leg wrenched from your hands. No, this doesn't seem like a "silver lining" situation.
So, with the plug pulled on the ocean of hope that Candace and I had filled, I was (and still am) flailing. I tried exercising it out. I am a fixer and so I thought that if I pushed myself really hard on a run, or ran for a long time, or something, I would be distracted … wrong. I have tried to drink it out. A few beers, then just another so that it will seem less raw … wrong, and I had a headache. I have started listening to a bit more metal and hard rock as of late … an outlet of sorts where I can dissolve into the lyrics of frustration and sense of what I seek running counter-current to the reality around me. Not sure if this is helping or exacerbating my plight but at least it is something.
Ultimately, this will be something that only time will resolve. Candace and I have a new issue that will potentially trouble me for much longer than this surrogacy not coming to fruition … we have 3 blastocysts that have literally been through the ringer of current technology and have passed with flying colors. I reflect back to the day of the transfer to our "Wonder-Surro" and the image of the little blastocyst that seemed to be drifting around on the screen before we did the transfer. Many transfers before we had never seen anything like that. Candace and I believe to this day that, of the two blastocysts transferred, that one turned into our Jellybean. Now, we have 3 more blastocysts that have done everything asked of them. They could all turn into Jellybeans for us, or someone else. What we decide to do with them will go a long way to deciding what their fate will be.
That burden is huge.
We are left with the reality that we took the steps to bring these blastocysts into existence with the intention of at least giving them a chance to realize life. Now, we need to decide whether to seek an alternate surrogate (a seemingly impossible task as our all of our money has gone to this), provide them to other couples as donor embryos, donate them to science, or simply have them destroyed. The image of the drifting blastocyst on that one transfer day is blazed in my mind's eye and, regardless of our decision, the thought of our 3 currently frozen blastocysts invokes a sense of paternal responsibility in me.
This poem is often interpreted as a largely unmasked veil of what happens to goals and aspirations of people when those hopes are repressed or extinguished. It seems particularly poignant for Candace and I as we sit in the emotional rubble of our collapsed hope. Langston Hughes has somehow captured the nexus of emotions that we are (or at least I am) feeling in his poem "Harlem." How the story of our three blastocysts ends, I am not sure. For right now though, it seems like a dream deferred.
"Harlem"
What happens to a dream deferred?
Does it dry up
Like a raisin in the sun?
Or fester like a sore-
And then run?
Does it stink like rotten meat?
Or crust and sugar over-
Like a syrupy sweet?
Maybe it just sags
Like a heavy load.
Or does it explode?
Langston Hughes, 1951  
Candace- I will hope again. I will move forward. But for now, I grieve. I am short of words on our situation right now, and my voice will come back. Until that time comes,  I stare deeply into rubble of how our infertility has impacted us as it relates to our financial future, hope and the fate of our embryos.
For those who want to keep insta-tabs on our regular shenanigans check out @Ourmisconception on Instagram. If you have comments, witty quips to share or need some feel good encouragement, toss an email our way or drop by our Facebook page