After seven years, it is not very easy to figure out how to start this post.  We had our baby seems appropriate enough … or maybe this is better – WE HAD OUR BABY!!!!!!!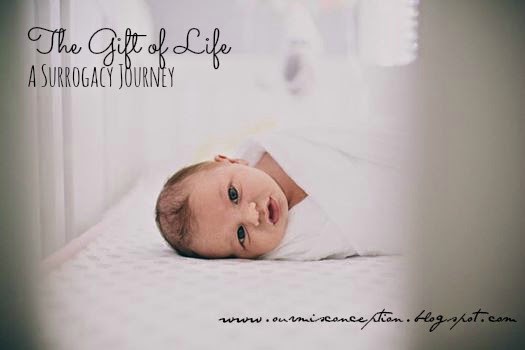 We will go into more details in our next post but we wanted everyone to see our story through the amazing eyes of the folks that shot our birth video, Sarah and Justin from
Lovell Productions
.  Obviously, we will forever be indebted to our wonder surro and her entire family!  Without them, we would not be all blurry eyed and sleep deprived from our daughter, Grayson (a.k.a. Jelly Bean) needing to be fed at all hours of the night.  One short comment on that though, we heard from a lot of parents around us to "wait" until we have to deal with the loss of sleep and all the hardships and then we will revisit our desires to have a child.  Well, we are there.  3-4 hours of sleep tops, dirty diapers, and lots of wardrobe changes from getting spit-up on them.  Guess what, we love it.  We are not tired from drinking a keg of sorrows the night before, we are not changing diapers from gambling with whether we could make it to the bathroom or not and losing, and we are not doing wardrobe changes because we are starring in a musical about infertile hysteria.  Nope, we are in the trenches of newborn care and are loving it.  Alright, enough drabble, please enjoy the video from
Lovell Productions
and keep reading about some more exciting news in the lives of us, the infertile editors!

The Gift of Life from Lovell Productions on Vimeo.
On top of all this, we are incredibly honored and truly humbled by
Resolve
and our amazetastic readers to have been nominated for the Hope Award Best Blog. WHHHHHAAAAT? I peed a little, (ok, ok, busted, maybe a lot) out in immense excitement when I opened up that email that said we were 1 of 5 blogs in the running to win such. There were over 130+ that were submitted!  The Hope Award is an annual award given to someone who writes about what it's like living with infertility and passionately fostering awareness of the disease through their words, electronically speaking. Uhm, Uh hem, over here!! Choose us!
Do you remember back in April (National Infertility Awareness Week) when we were challenged to write about a specific topic "
Resolve to Know More About
…?" Well, that is the post that secured our nomination.  SO what is behind curtain #2 if we win? A NEEEEWWWWWW CAR!!! I kid, even better really. We are presented with the Hope Award at the Night of Hope Gala in NYC in November. This is like the Heisman trophy of infertility bloggers…THUMP…Yeah sorry, just passed out from excitement again.  At this point it is in the hands of YOU. No pressure right? So here is what you need to do:
Share, Share, Share. More votes for "Our Misconception" = #winning!
Thank you for supporting us, our journey and reading our misadventures in the land of IF.
If you like our blog, even just a little, how about showing us some sweet sweet bloglovin' and follow us? You can subscribe to our blog via email and can receive our posts as soon as we click send! (See right sidebar for how to sign-up) If you REALLY like us, we are also on Twitter, Facebook and Pinterest!