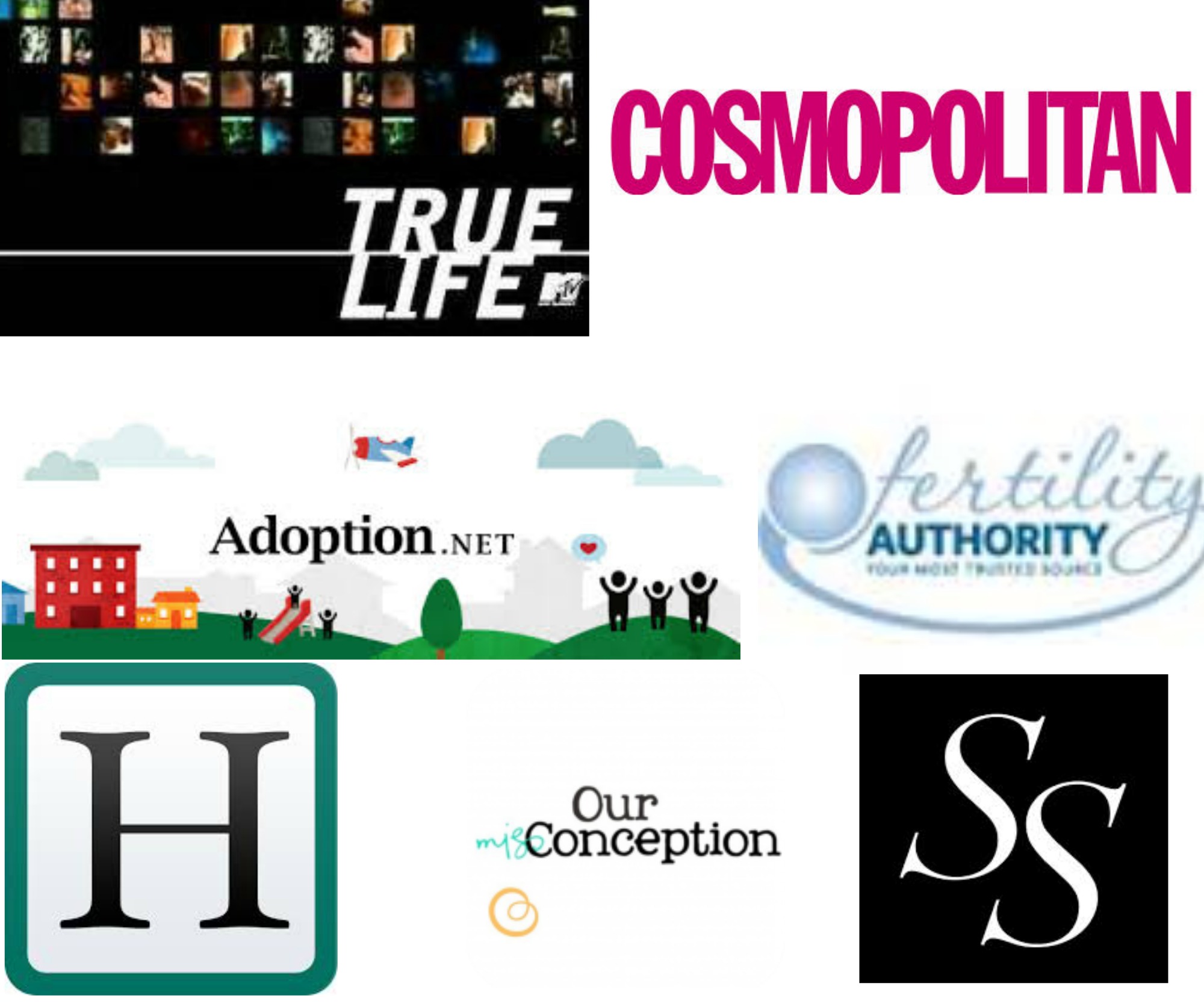 National TV Recognition
MTV's Award Winning  True Life  Documentary "I'm Desperate to Have a Baby"
ABC News Channel 13- Interview on Couples who Struggle with Infertility
ABC News Channel 13 – Interview on Miscarriage and Loss
Virginian Pilot, Front Page News Segment
Radio Talk Show Interviews
IVFML – Huffpost Podcast
One Bad Mother– with Host Teresa Thorn
Psyched Up Radio– Host of Psyched Up Radio, on Blog Talk Radio, Carla Lundblade, M.S., L.P.C., N.C.C., has been through the trials and tribulations of infertility…read more
The ABC's of Surrogacy Blog Talk Radio with Host Dawn Marmorstein
Maternally Yours Pod Cast with Host Laura Gilkey
In Search of Fertility Web Talk Radio with Author Victoria Hopewell
CureTalks Podcast on Blog Radio with Priya Menon
CureTalks Podcast on Blog Radio with Priya Menon
Beat Infertility Podcast with Heather Huhman
Free Lance Writing/Content Creation and Affiliate Blogging
2014 RESOLVE Hope Award Recipient for Best Blog
Interviews
Huffington Post Interview with Barb Collura, RESOLVE: The National Infertility Association
The Art of Infertility- Parenting After Infertility
The Health Journal-Fertile Ground
The Health Journal – What is the Emotional Cost
Nat Kringoudis- Author of  "Fertilise Yourself"
don'tcookyourballs.com- Swim Team Try outs
Fran Meadows- Author of "The Truth Behind the Secret Infertility"- Interview 
Fertility Bridge –What 22 Infertility Have to Say
Other
Healthline Best Infertility Blog
Blogger of the Month on Fertility Smarts
Blogger of the Week on Fertility Authority
The Girlfriend's Survival Guide to Simplifying Infertility, by My Hopeful Journey, Lisa Drouillard
Contributing Affiliate Authors: http://ow.ly/ouU8r
Featured Blogger on: The Infertility Survival Smart Phone App
Contact Us!
We love to talk about our broken plumbing! More so, share our story and help be that 1-in-8 voice. For any media inquiries please feel free to email us at ourmisconception@gmail.com
Public Speaking 
Let's talk. No really, both Chris and I have been key notes, guest speakers, Emcee's and have spoken at multiple events.  Email us at ourmisconception@gmail.com
Become a Sponsor
We wanted to become established in our blog before we opened up the door to sponsors.  We now have a regular followers on our blog, Twitter and on Facebook!  Simply put, we want a family and it is not cheap!  Help us build our family and sponsor us.  How do I sponsor this awesome couple you ask?  Please contact us at oursmisconception@gmail.com.
If you're not interested in purchasing a Sponsor advertisement, I have other options available for you!
Giveaways
I LOVE hosting giveaways for my readers.  If you are looking to get your product(s) out there, donating item(s) to be used for giveaways is Perfect!  We can work out the terms for the giveaways through emails, times, dates, etc.  I will type up a post to be hosted on this blog for your giveaway.  It will also be networked with Twitter as well as Facebook.  Your business will be featured in the blog post with the item which you want to use for the giveaway/contest.
Product Reviews
It just so happens I love reviewing products too!  If you would like me to review one of your products and to write a post which would spotlight your business, send me one of your products!  It's a great exchange.  You give me your product to keep and I will Spotlight your business in a blog post, as well as link it to my Facebook page.  It's a win-win!
If you are interested in any of the above, e-mail us at ourmisconception@gmail.com.