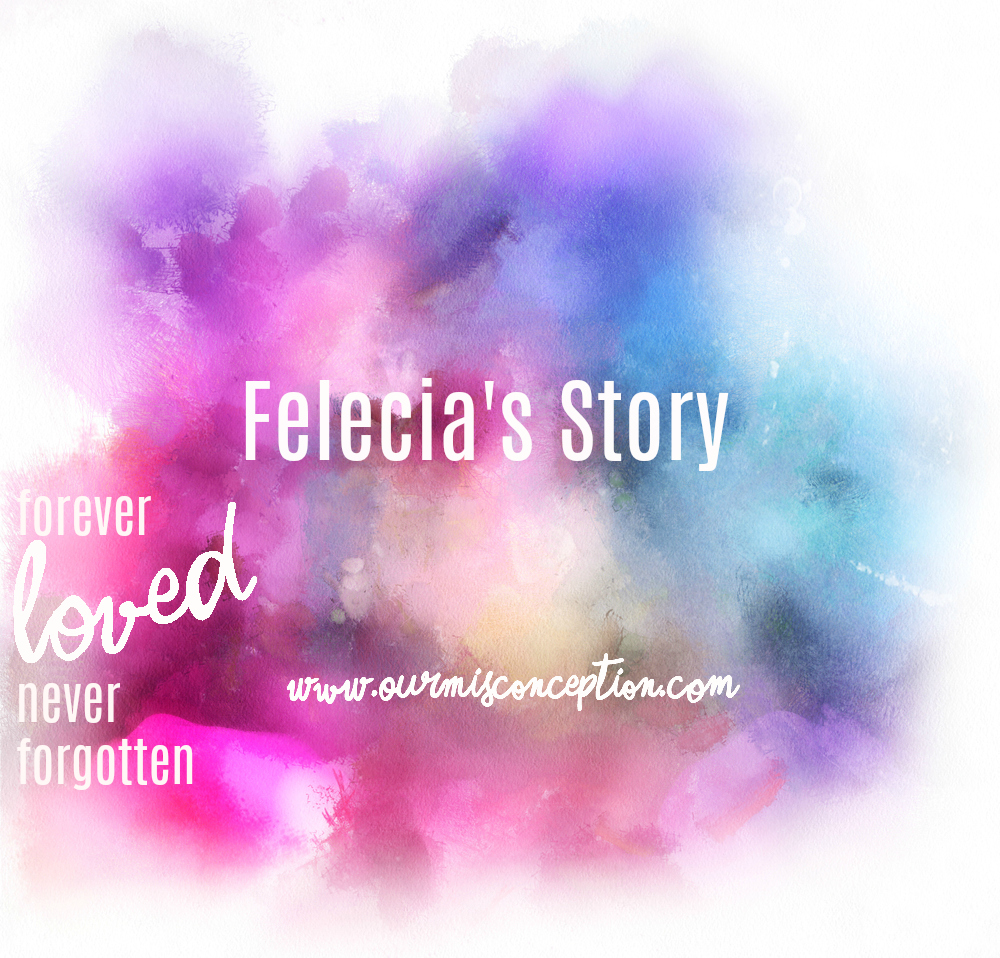 The thoughts of how a pregnancy will change your life, your hopes, dreams, your everything happen instantaneously. It is as if our brain hits the fast forward button to the end of a pregnancy on its own. So whether the loss happens the moment after we get word that we are pregnant or the minute before our infant is born, that loss leaves an indelible mark on our hearts. Read about Felecia and how she balanced excitement for a viable pregnancy with the loss of another.
Two very dark pink lines pop up immediately. No waiting around. One day after a missed period. Yay we are pregnant! I feel like I shouldn't get too excited. I can't tell many people. My family has a history. A bad history with babies. Grief around babies. Loss around babies. Infertility. Death. Preterm labor.
I got pregnant with no problem. Not planned but very welcomed. First doctors appointment anticipation hits. First ultrasound goes well. Everything is looking normal but it is early so I get to come back again soon. Next appointment, excitement fills the air. Excited and scared to be excited. Hubby and I look up at a black and white screen that we don't understand or know what we are looking at. The doctor says there's a heartbeat but hmmm do you see that? What…what should I see? Then the doctor says do you see that second sac. It is smaller. Then the doctor says hold on. She takes some pictures and leaves the room. She comes back in and says I think you may have a vanishing twin. (She had walked outside to speak with another doctor.) Then we are completely confused…twin?? We don't have twins in our family, we can't possibly have twins. The doctor asks if I have experienced any bleeding. I say no, I haven't. Then she says well let's schedule another appointment to check on the other sac and see if the little blob on the screen develops a heartbeat. Be optimistic. It is early and we might just see/hear a heartbeat next time. The doctor says if I start bleeding to come back in.
Hubby and I leave the appointment excited thinking wow, we have two! Um two of everything will be needed!!! We talk to our parents. We show them our ultrasound with two little sacs. Two little blobs. One just a few days smaller than the other. I start envisioning a nursery with two. I look at cute twin outfits. I get excited about the possibility that we will have two little peas in a pod.
Then I notice some spotting about a week later. I start stressing and reading online. Freaked out I'm going to lose both. I come in for an ultrasound again. The first little blob and sac look good. Little blob number 1 is right on track and has a strong heartbeat. Little blob number 2 looks smaller and still no heartbeat. Because of my family history of an incompetent cervix I am also referred to a specialist where I get an ultrasound every two weeks to check on my cervix. (Luckily calming nerves that continued until the end of my pregnancy.) My first appointment with them is a few days later and the little blob is missing. The sac disappearing.
Disappearing. My hopes of two disappearing. I'm sad but really do I have a right to be? Am I allowed to mourn the loss of a baby when I still have one growing inside me? It was too early to be sad. I shouldn't be so attached yet. Grateful to God that the one is still growing and feeling ungrateful for mourning the one we lost. My two peas in a pod now one little pea. Does the little blob that left even count? Was I far enough along for my blob to go to heaven? If a baby doesn't get a heartbeat does it actually go to heaven? Will I ever get to see my disappearing little blob? No one understands the loss I feel because I am still pregnant. Hubby doesn't cry. He says it sucks. But he goes on about his way. Going on with plans later that day. There must be something wrong with me for caring so much. Push these feelings down…stop dwelling on it. Get excited about what is still to come.
5am phone call…my beloved and very close MeMe has passed in the night on the same day we found out my little blob was gone. I feel comfort in knowing she is there in heaven holding my little blobs hand. I had planned to go tell my MeMe that day about my little blobs. But she found out that day even if I couldn't be the one to tell her.
My strong little blob that hung on, grew and grew. I was terrified during my pregnancy that something bad would happen to her. I waited to announce my pregnancy until around 20 weeks. I was put on bedrest toward the end. Terrified again something bad would happen to my strong blob that turned into a strong girl. She was born only one week early. We talk about her twin with her. We don't know if it was a girl or a boy. But that little blob will always be remembered. Even if we couldn't give him or her a real name, that will always be my little blob that I will meet one day. That I will find out if he or she was a boy or a girl. One day when we meet in heaven. ❤
You like-y? For those who want to keep insta-tabs on our regular shenanigans check out @Ourmisconception on Instagram. If you have comments, witty quips to share or need some encouragement feels, drop by our Facebook page