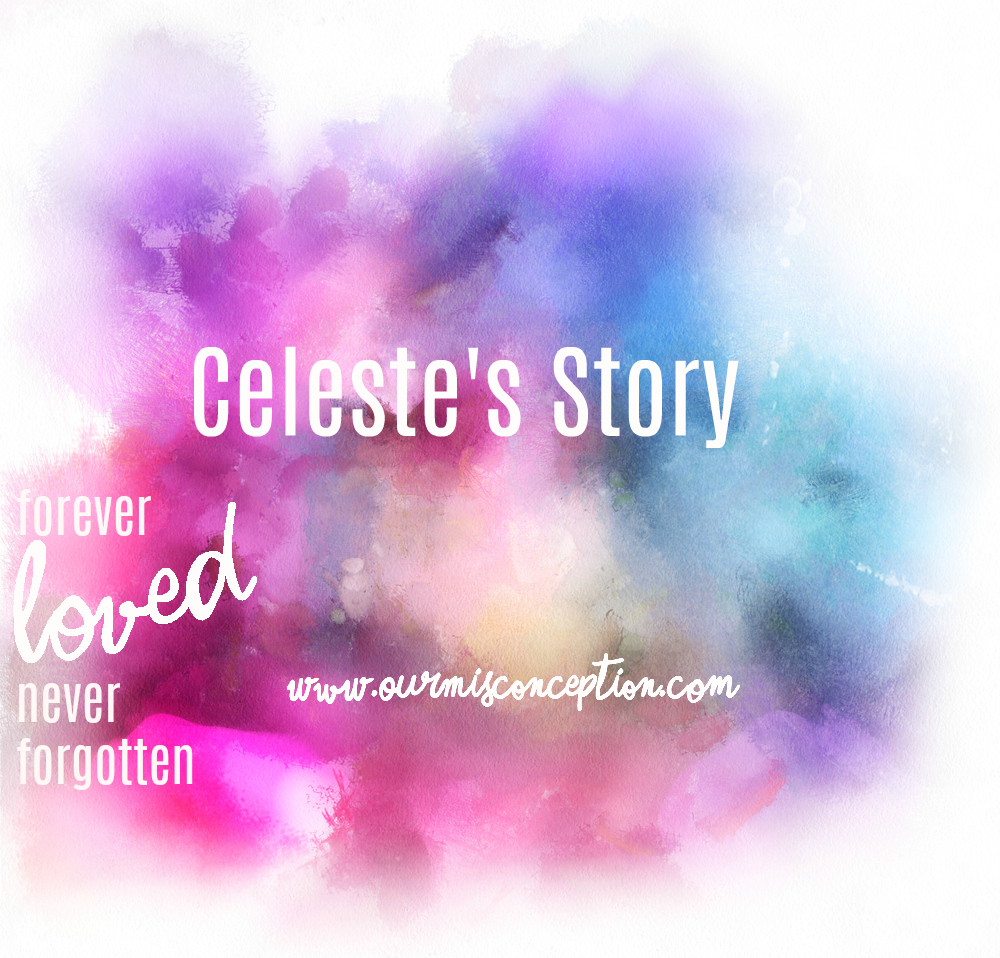 I've known Celeste in the electronic-sphere for quite sometime. I've followed this couple's journey for many years, and have felt the emotions of helplessness, happiness and devastation watching their incredible struggle to become parents. Celeste is a beautiful woman with boundless strength and has taken her pain and turned it into something else. This past October she fundraised and put together beautiful baskets to deliver to a local hospital to be given to parents who experience infant loss and stillbirth. I am honored to know her and in awe of her strength to share her story with us during our #ForeverLovedNeverForgotten guest blog series.
November 24, 2014 brought the long awaited miracle that we had been hoping for over the previous three years: two pink lines. After trying to conceive for a year on our own, we were diagnosed with unexplained infertility and began assisted reproductive technology treatments with fertility specialists in April 2013. Six Intrauterine insemination cycles and four in-vitro fertilization cycles later, our arms were still empty, our hearts were still filled with longing, and our hope was dwindling.
It was after we underwent our fifth IVF cycle that we found ourselves staring at a positive home pregnancy test for the first time ever. We gave thanks that our dream seemed to finally be coming true, and learned two weeks later that we had hit the IVF jackpot: we were pregnant with twins! We were overjoyed, and envisioned the rest of our lives together as a family of four. Sadly, we lost Robin Kay at seven weeks, six days due to "vanishing twin syndrome." It was three days before Christmas, December 22, 2015, and we were utterly heartbroken to say goodbye to one of our precious miracles. The mixture of emotions was relentless: depression and grief over the loss of one, gratitude and hope that one survived, and then guilt and shame for feeling that way. They were a package deal in my eyes, and I was so confused to know that one was here and the other was not. The doctors gave us a "guarded prognosis" for the other, and we held our breath between each appointment.
Our surviving twin did just that: she continued to survive. Just as we were getting comfortable with the idea that the pregnancy would progress, we learned that our baby had multiple congenital anomalies. We were at the hospital for an early anatomy scan, and one anomaly was so rare that the doctors couldn't even diagnose the issue. They told us to return for more scans in two weeks, but we decided to get a second opinion at The Children's Hospital of Philadelphia.
After a full day of testing and five hours on an exam table, the doctors at CHOP were able to tell us that our baby had a congenital heart disease, which included a ventricular septum defect and a hypoplastic aortic arch. The doctors said that she would need surgery after birth, and that the success rate was 95%. She also had another condition called cloacal exstrophy, and would require two or three reconstructive surgeries to correct the anomalies. We left with our heads spinning, but we had a plan for our baby. We would deliver the baby at CHOP and she would have the surgeries. Surely, it would be a rough year to start, but we were willing to do anything for our baby.
At 24 weeks in the pregnancy, the amniotic fluid was at a dangerously low level. Typically, the baby would need to be delivered and would spend several months in the NICU. However, given our daughter's heart condition, she wouldn't survive outside the womb. We decided to continue with the pregnancy and hope that she would grow enough to endure the surgeries she needed. Lung development and muscle tone were now added to our list of concerns. We made weekly trips to CHOP for monitoring.
At our 30 week appointment, we made a palliative care plan in the event that we needed it. The meeting was brutal, but we made difficult decisions and then hoped that we would never have to see that document ever again. We also scheduled a C-section for 34 weeks gestation on June 24, 2015.
Two days later, I didn't feel the baby move, and checked for her heartbeat on a home fetal doppler… her heartbeat was gone. My husband and I rushed to CHOP and the doctor confirmed our worst nightmare: the baby was dead. The whole world was spinning around me and standing still at the same time. The doctors induced labor later that night.
The next day, I gave birth to an angel. Rosa Kimberly was born sleeping on May 30, 2015 at 5:29 PM. She was 15 inches long and weighed 3 pounds 6 ounces. She was beautiful.
It's over two years later, and my heart still aches every single day when I think about my beautiful twins. A year after we lost Rosa, we did another embryo transfer. My daughter, Annarose Christina, was born happy and healthy on February 1, 2017. She is our joy and inspiration. Every night, when we tuck her into bed, we say goodnight to her siblings in heaven. She will grow up knowing about Rosa and Robin through the stories that we tell. I love all three of my children with my whole heart, and will spend the rest of my life smothering Annarose with kisses for all of them.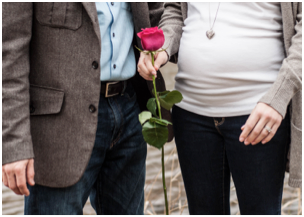 An angel in the book of life wrote down my baby's birth.

Then whispered as he closed the book, "Too beautiful for Earth."
You like-y? For those who want to keep insta-tabs on our regular shenanigans check out @Ourmisconception on Instagram. If you have comments, witty quips to share or need some encouragement feels, drop by our Facebook page