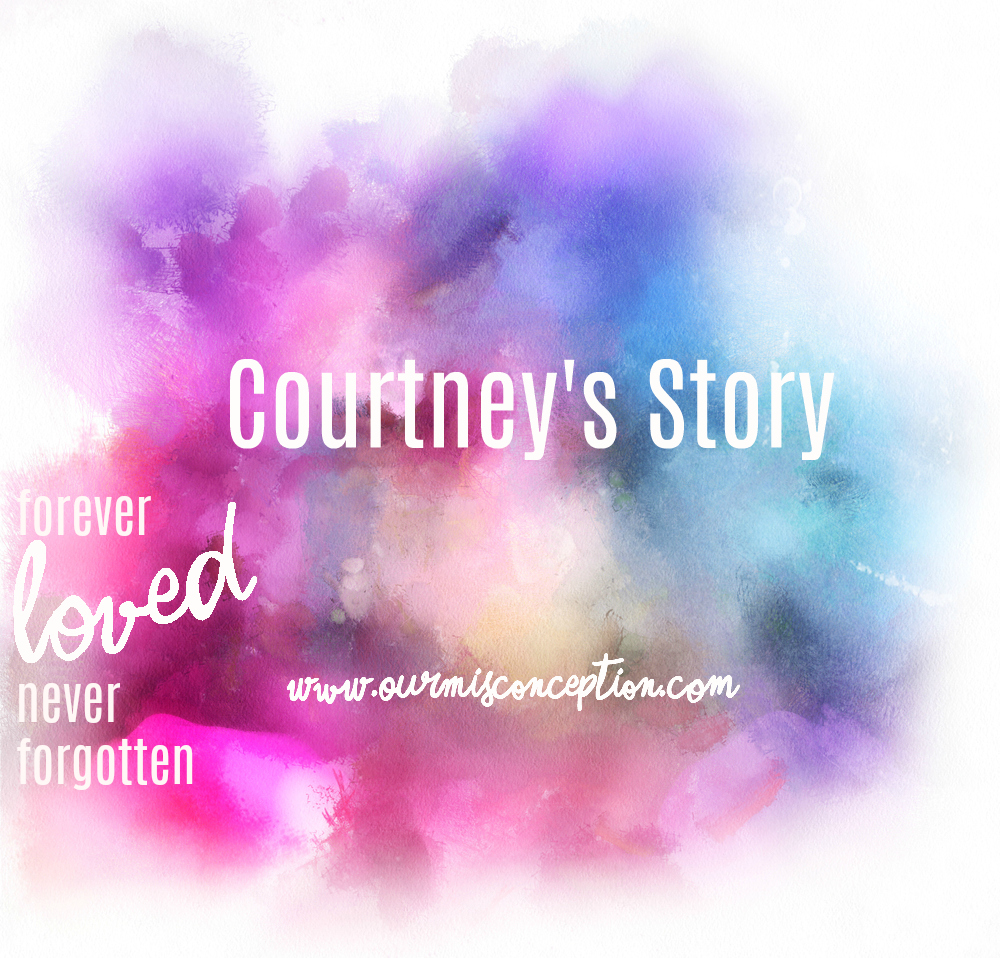 I remember when I got the call.
A good friend of mine had reached out to me asking how to best support someone who had just lost a baby. This friend is someone who cares hard, like really hard. I also know she would have done anything to take this pain away from her friend. This is how I met Courtney. I immediately connected Courtney to a local RESOLVE miscarriage and loss support group and with other couples who could relate to the deep pain that they were going through. Over the past couple of years since Courtney's loss, I have gotten to know her and how beautiful she is. Courtney's faith and grace through her journey is one of admiration. It is also one of hope. She has taken her pain and has began to help others. I am both deeply saddened by that call I received that day, but because of my care-hard friend, I have made a new friend.
We wrap up the last of the #ForeverLovedNeverForgotten posts with Courtney's story.
It feels like I'm living another person's life. I never imagined I would be in this club; a club of people, primarily women, who have lost a baby. I lay in bed at night and think of my son Shep while looking at pictures of him on the day we finally got to say hello but had to say goodbye in the same instant. Our second baby, William Shepherd, was born still on his due date in May 2016 and he forever changed our lives. We were once blissfully naive to pregnancy and infant loss because it had never knocked so closely to our door. We were now in the deepest grief one can experience, the grieving of a child, someone who is supposed to out live you, not go forth before you. We were so excited to be bringing a new life into our family; a sweet baby boy, a little brother, a son, a grandson, a nephew, but God had different plans. Instead of an excited call from the hospital saying "he's here" I made a call to my mom saying he was gone. No one believed me, everyone was confused and still holding on to hope until they held him at the hospital after a silent and solemn delivery.
I can tell you every person that touched my beautiful baby boy and the respect and love that was felt in the delivery room. The nurse and midwife that helped me bring Shep quietly into the world will never be forgotten. I can tell you the lullabies I sang while holding his lifeless body. I can tell you about his short wavy hair and cute chubby body with long skinny feet, but I can't tell you how well he nursed or how he kept us up all night. I can tell you every item he touched and how much these material things mean to me but I can't tell you what color his eyes were or about his smile. I spent nine months growing and carrying a wonderful baby that was greatly anticipated and we had a mere five hours with him at the hospital before our last embrace. I wish I could've had more time, it still feels so unfair. Leaving the hospital in a wheelchair with my memory boxes and a baby blanket instead of my son. Returning home and healing from a delivery without a baby to care for or nurse. A milk supply that believes there is a baby to suckle at the breast and having to dry it out by using cold cabbage leaves and hand expressing. A two and a half year old asking where her baby brother went why she can't hold him. Putting away her "Big Sister" shirt and "I Am a Big Sister" book because it's just too much for a toddler to comprehend. These are the excruciating reminders that you were pregnant but your baby died.
All three of my children have taught and continue to teach me incredible life lessons but Shep's has by far changed me the most. Where I was weak, I now am strong. I've developed a closer relationship with God, because He has always been with me. He carried me through the darkest days of my life and I know He will always be there when I need Him. I have a deeper compassion and empathy for others who are mourning. I'm learning to let the little things go and spend more quality time with friends and family. I have been enveloped in a new tribe of bereaved parents who are the strongest people I have ever met. You don't know true strength until you see a mother who has lost a child, go forward and pick up the shattered pieces of her soul to keep living every single day without him. I wish I could've met my son alive; seen his eyes open, feel his hand wrap around my finger, hear his cries and coos, but this was not the plan. I have to live with the hope that I will see him again in Heaven one day, until then he will continue to teach me new life lessons and send a rainbow when I need it most. For now, I live every day with two in my arms and one in my heart.
You like-y? For those who want to keep insta-tabs on our regular shenanigans check out @Ourmisconception on Instagram. If you have comments, witty quips to share or need some encouragement feels, drop by our Facebook page