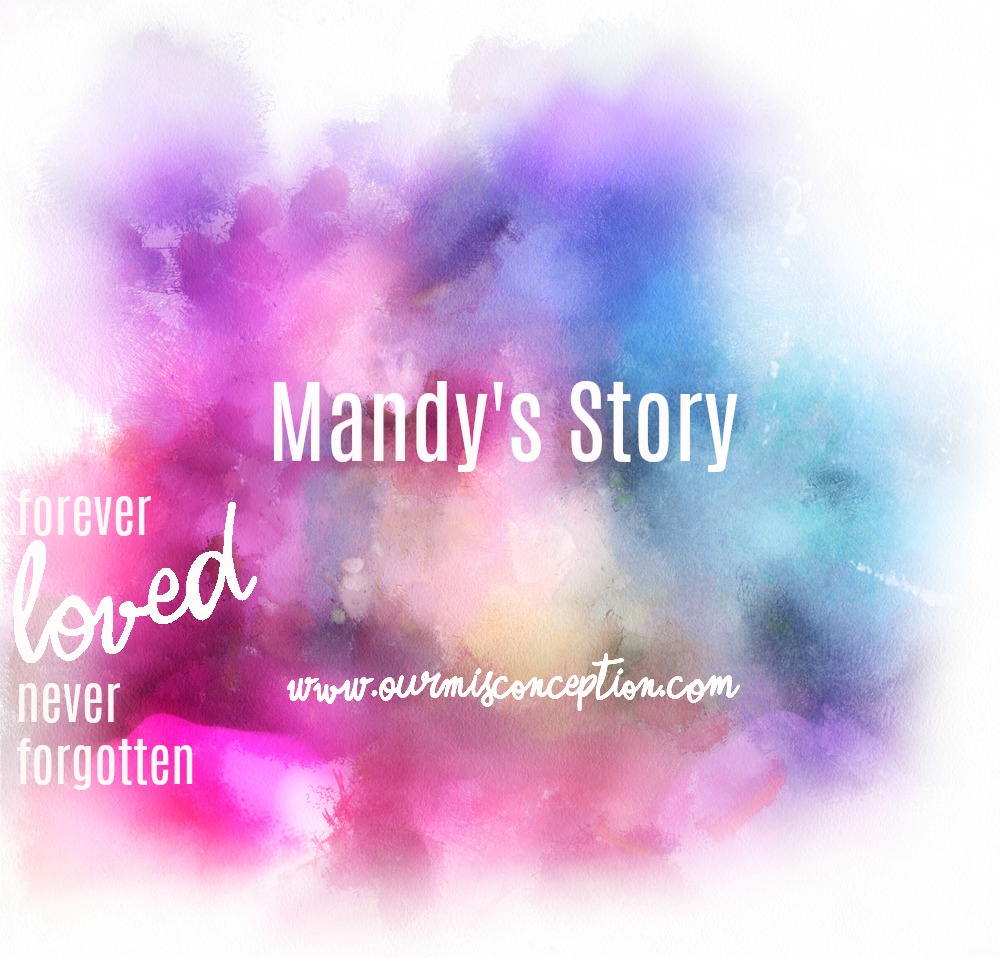 Infertility, and all of the hardships associated with it, can be a wrecking ball in our lives. Sometimes, the damage is visible, such as with the loss of a pregnancy. Sometimes it is relational, such as when relationships are forever changed, if not outright shattered, as a result of the difficulty and decisions that are incumbent in this world. Sometimes, they are emotional, causing us to lose control of our emotions, either over or under-expressive. Mandy shares her story where her life was changed in all these ways as a result of her loss.
From what I understand, a loss can be anywhere from a chemical pregnancy, to a blighted ovum (anembryonic), to a loss before viability.
And every one has a deep impact on each woman who thought she would be a mother (again, in many cases).
On February 4th, and into the wee hours of Feb 5th, 2012, I had a blighted ovum miscarriage. For a couple of days prior, I'd had brown spotting. The father (Nuvaring user error pregnancy) didn't feel it was a cause for concern, the mother of his two other children had had a subchorionic hemorrhage early on with their first child, a daughter, and everything turned out fine. Feb 4th at 10 AM, though, I awoke to red spotting.
Went to my walk in clinic, and the on call doctor there was older, and told me exactly what he thought would happen; talked about a D&C, etc. and generally scared the hell out of me. So we went on to the ER. After an external ultrasound and an internal one (you find out very quickly how well your kidneys work when you have to pass a litre or more of water after external ultrasound to get an internal one), they told me I was measuring only about 5 to 6 weeks, it never got past that, and that there was nothing in the sac. They said I should pass it by Monday, but "never say never, and never say always".
Incidentally, in that very same room in the emergency department, almost five years to the day (one month and a day shy), Jan 4th, 2017, (also 6 months to the day after our wedding on July 4th, 2017), my now husband and I first got the news of his seminoma recurrence. He's had chemo since, and doesn't need radiation. He will need to be monitored the rest of his life (but his severely low sperm count is now zero. Hoping it comes back in a few years, even severely low we can deal with).
I went to be with a friend, as the father had his second child to attend to at home that weekend, and his parents, whom I'd just met within the week before, (thank goodness they were there) were minding that child while he was with me most of the day at the hospital.
Physically, I've endured worse menstrual cramps before. In some way, it was empowering, as my body knew what to do. The pain crested in waves, since they were mild contractions. My friend at the time who was there for me opened the sac, as I couldn't. She's the one who bawled, I was pretty stoic till the next morning when I shed a few tears.
The next month, the father left me, but we were civil till about January 2013.
Five months later, I met my now husband, and I was still able to feel more depth of emotions and a sense . But something changed the end of 2015. I can't put a finger on it, but there was a lot going on, having dealt with infertility for about two years at that point, combined with various other obstacles. I've always been more logical than my mother and other people I considered to be over emotional (though I used to be till I moved away from my hometown). I assume this is true depression (numb rather than just sad, though I can cry, feel anger and fear deeply), but the psychologist has told me I have ADD (inattentive) and doesn't think I am ready for a child if I'm too overwhelmed with life now. My personal hygiene and the housework has suffered greatly. But I go to work every day, and we are making plans to move to another province for IVF funding, whether or not the known donor sperm helps us conceive.
I've also noticed that I am messing up words and tasks at work (learning a new role that we did before but there is more to it now). Psychiatrist I saw once said I don't have ADD as far as he can tell (but would need my medical file going back to childhood). And any other psychiatrists around here are not that nice and push pills. Except two who are booked solid.
Maybe moving to another province will help me figure out if there's more to it medically than simply depression and anxiety.
Mandy, thank you for sharing your story and such a raw take on the after effects of loss. We are sending you love, light and many prayers as you navigate the healing process.
You like-y? For those who want to keep insta-tabs on our regular shenanigans check out @Ourmisconception on Instagram. If you have comments, witty quips to share or need some encouragement feels, drop by our Facebook page