DAMN IT… back to the room with painted ceiling tiles. So after round 2 of some serious boobie smashing, (which turned out A-OK I just have dense breast tissue, YEY! Win for the boobies!). Something that has been also been going over the past few months on is a little bit of head scratching from my other posse of doctors, as in my primary doctor and my OBGYN oncologist. I've been losing a fair amount of weight in very a short amount of time. For most this is great problem to have, I mean bikini season is coming... however I am small framed so it is noticeable when it happens fast.  I have also become a bit of a space cadet. Meaning…umm err what was I saying again? SQUIRREL! Yeah, that. I've been a scattered mess and that's not the OCD Candace norm. So my docs have done some tests over the past month and have been running some additional scans. I was punted over to my OBYN Oncologist because one, it was time for my annual and two, because of the head scratching and perhaps it may be correlated? I know what you're probably thinking. Hold on how do you do an annual exam if you have had a hysterectomy Candace? Isn't it like a vacant, dusty cave now? Answer, I still have some lady bits. Well, not much is left there and although I no longer have a uterus, my fallops and cervix, I still have some ovaries holding on strong. So after my results, my oncologist decided to do some additional ultrasounds. Since I no longer have visits from my dearest nemesis Auntie Flo, I'm flying blind on what's the haps with the womanly system. So I enter in the ultrasound room. Now, the last time I was here, in that room, it definitely was not a proud, shiny moment for me. The brief recap is, having been accustom to vaginal ultrasounds I dropped trouser hopped on the table and realized there was no paper drop cloth to cover myself with, so I grabbed the only thing available: a mini towel that barely covered my bits and pieces. Yeah, it ended up being an abdominal ultrasound which made for an awkward moment for all parties involved. Here's the full post
here
.  This time I knew better to disrobe without specific guidance on the "type" of ultrasounds I would be receiving. That knowledge in mind and asked my questions and was instructed it would be both and abdominal and vaginal. Old hat, I can handle this. The first abdominal ultrasound was done quickly and without the awkward tea towel covering my goodies. Then on to my old friend Mr. Ultrasound wand. It was a long time since my last meeting with Mr. Ultrasound wand.  Back then, our glorious stirrup dates were all about checking if I was an egg factory and if my stimulation meds were doing their job. This my friends is called a "Wand-Selfie".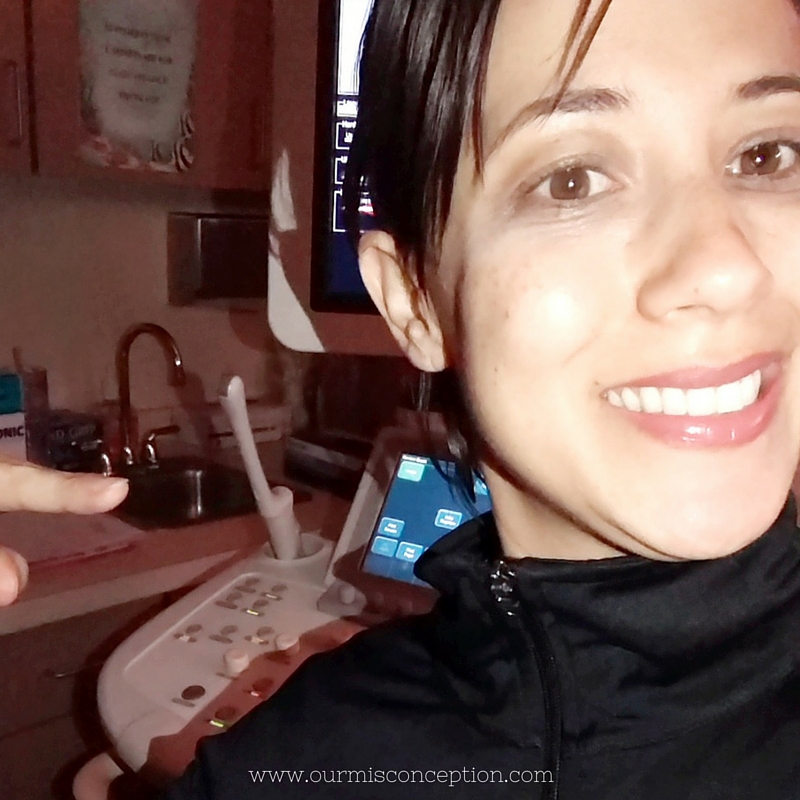 What happened next was a bit unexpected and spiraled me back into a dark hidey hole I remember all too well. The ultrasound tech examined the empty void that use to be my uterus and then onto the ovaries. She stopped at my right ovary and said "WOW you still have a good amount of follicles." My heart sank. After sometime poking around on that side she scanned to the left ovary and then exclaimed again "WOW! That side has more follicles and they are really good size, especially that particular one" pointing to the folly that was probably going to be release into the great abyss of infertility that is my missing womb. This is complicated. I have a child and we love her and she is growing faster than the images that I can hold on to.  Chris and I want another child. Is that wrong? NO. And I dare anyone to comment below for us feeling this way. You see, infertility has robbed me of the choice. I don't have a choice to expand a family the way most do. If we choose surrogacy I will need someone to altruistically carry for me. Which is a different scenario than our previous surrogacy. If we want to pursue adoption, then we'll need to pick up a spare job to cover the costs. You see, finances are the number one barrier for most in building a family and Chris and I are not immune. So here's what will happen in the next upcoming week:
I will dust off the number in my cell phone and I will call my home away from home. (Our fertility clinic) and talk to them about the possibility of a retrieval.
I will also schedule an appointment with a local adoption agency
I will not be a dumbass and will be sure follow up with my doctors who are still scratching their heads on why my body is doing weird things.
Basically a lot of appointments, lots more questions that will need answers. Either way we are ready to start climbing that mount again or at the least  try!
Hey looking for a  little more than just a blog post here and there? Or do you have endless questions, comments or witty quips? 
Email
us anytime or stop by our
Facebook page
 to say Hiya or for some  #IF encouragement.