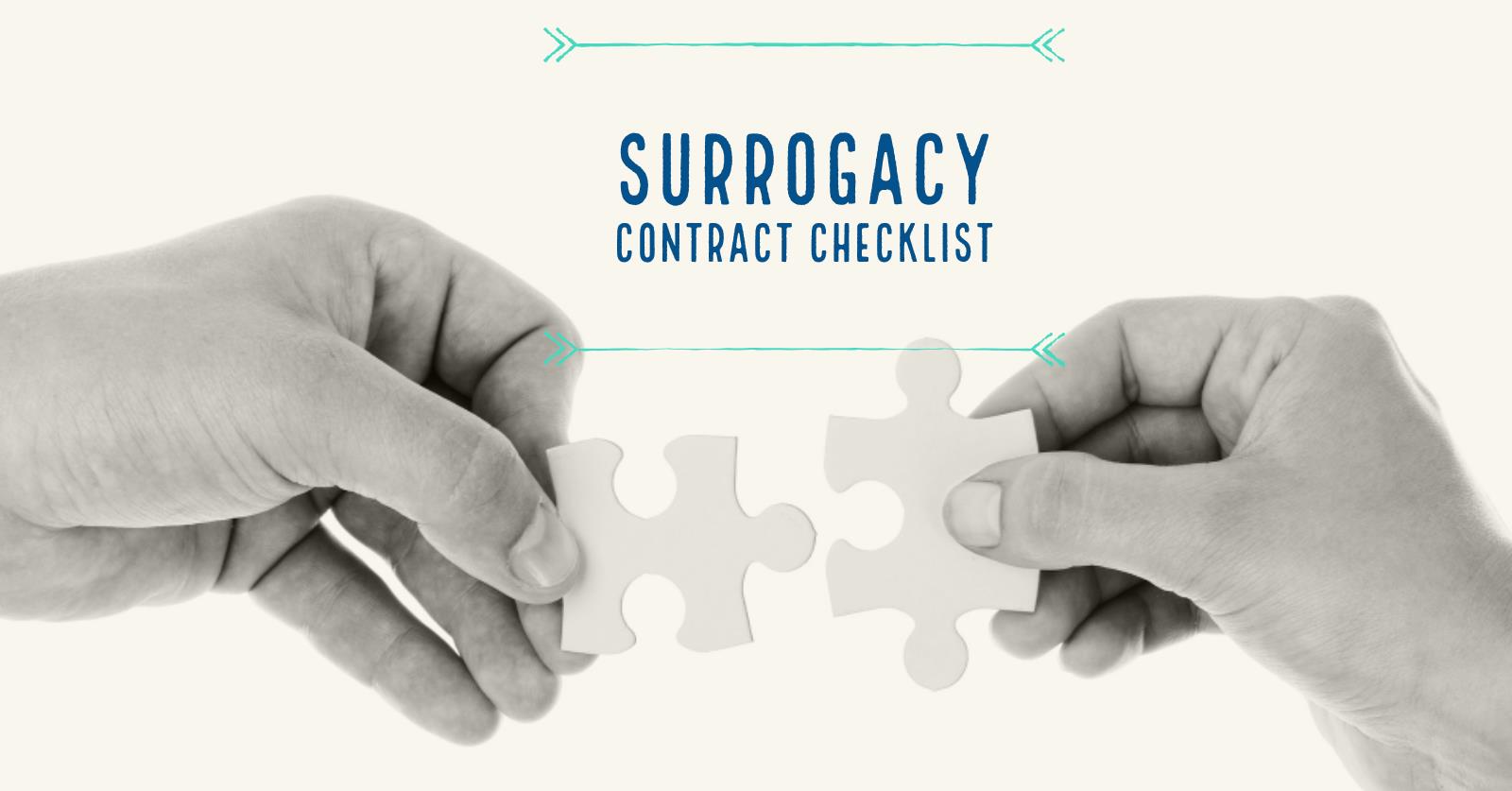 Surro-What? Have you ever felt like you have been handed a pile of cooked spaghetti with super-glue as sauce and been told to untangle the noodles? That is kind of what we felt like the first time we sat down to try to think of everything that we needed to consider for our surrogacy contract with our Wonder-Surro.  Read on, there will be a downloadable checklist available to help you navigate these waters.
How many embryos are all parties willing to transfer?
How many times?
What hospital will the delivery be at?
Who will be allowed in the delivery room?
And that is some of the easy stuff. Here are some hard questions;
Who will hold the baby first?
What if maintaining the pregnancy causes imminent danger to the gestational carrier?
Will the intended father wear a Sriracha shirt for delivery?
Okay, so maybe that last one isn't nearly as difficult, but you get the idea. For as beautiful and selfless and miraculous as surrogacy is, it is equally invasive and stressful and confusing.
Candace and I learned tons going through our first surrogacy that led to our amazing Jellybean blessing. Now, as we are staring down the cliff side of a second surrogacy, we are hoping to use some of what we learned before and have learned since. One of the most important things to consider is that communication is key and the surrogacy contract (or generation of a contract) is a great vehicle to really turn over any stone you can think of before taking the first steps on the path of surrogacy.
For example, do either you or your gestational parents (uh-uhm this stuff affects the husband of the gestational carrier as well) have specific dietary restrictions or wishes? Maybe your surrogate only ate sturgeon caviar during her previous pregnancies and will not carry for you unless you provide the same. Maybe you want your surrogate to only eat food each day that starts with the letter of that day. Regardless, now is the time to discuss these things and make sure that all involved parties are on the same page. Below are a few items that seemed particularly unusual for everyday consideration but may be extremely important and relevant for a surrogacy contract.
The Transfer:
How many embryos will you transfer at one time and how many attempts will you make for a successful pregnancy? Will you be doing an embryo transfer immediately after retrieval and fertilization or will you transfer frozen embies? Will you want to be there for the embryo transfer, does your surrogate want you there/not want you there? Will your surrogate be alright with 24 h bed rest after the embryo transfer?How about wonderful PIO shots or other treatments that your RE deems necessary?
The contract probably doesn't need to be this detailed, but all of this should be discussed and anything associated with strong opinions, difficult decisions, or uncertainty should be spelled out in the contract.
Diet:
Will you want your surrogate to eat anything or not anything in particular during the pregnancy? It is obvious that you will want your surrogate to not smoke, drink alcohol, or do illegal drugs while pregnant but what about other medications? What about soda, coffee, hot chocolate, trips to the local oxygen bar, or her pesky escargot habit? Will she need to kick the snails for you to feel that your baby is in the best fetal environment or are you a fellow gastropod aficionado? How about prenatals, other over the counter supplements, essential oils, etc.? There is a ton of things to consider but it is important that everyone agrees with a path forward. Does it matter that your surrogate prefers gala apples and you like golden delicious? Probably not. Does it matter that your surrogate is a vegetarian and you are concerned with her protein intake? Maybe.
Travel:
Since it will be difficult to know whether or not to buy airplane tickets to fly with your surrogate if she decides a trip to Bali is the thing to do when she is 19 months pregnant, it is important to discuss travel restrictions and cut-off dates. Putting clauses in that, unless a family emergency, the surrogate will remain within X miles or Y hours of the hospital or remain within state lines will be a way to ensure that everyone is on the same page and that you will be able to witness the birth of your child. Some people have strong feelings about flying while pregnant and others do not. Make sure to clarify if there is a difference of opinion and come to a consensus if need be.
Birth plan:
There are tons of delivery options: normal, cesarean, water, home, on a bed of marble (made that one up). Certainly there will be some factors that are out of anyone's control, if an emergency c-section needs to be done, it needs to be done. Barring that though, there are plenty of topics that will need to be worked out. Do you or your surrogate want a doctor, midwife, doula, circus clown, yeti, etc. delivering your child? Are epidurals allowed? Who can be in the delivery room? Is it okay to have a birth video or pictures? If you need to do a c-section, who will be allowed in the OR? You will need to ask your hospital how many people are allowed in the OR in order to make this decision. How will you get to the hospital for the delivery if it is scheduled? Are you picking up your surrogate? If your surrogate has kids, will they have a babysitter?   Will you be paying for the babysitter?
Post-delivery:
BIG question-the healthcare professional has a new born baby in their hands, who does that baby go to first? Will you be inducing lactation and will you be trying to breastfeed right away? Once everyone had moved to the maternity ward, what access will the surrogate have to the child or want to have? What protocols does the hospital have regarding who can access the newborn nursery and how will this direct your plans? The reason is because hospitals have hard rules regarding nursery access. Typically they have a limit on how many can access the nursery by use of bracelets/sensors/names on the "list". For our last surrogacy there was a 2 bracelet limit. One goes to who birthed the child (your surrogate/GS), the other can go to who the surrogate names. Basically one of the IPs may be left out. We'll touch on this more in a future post.
Maternity Leave
How about compensation for maternity leave? How many weeks of maternity leave will you compensate for? Although not necessarily a part of the contract, you should also discuss rough plans on visiting the surrogate after your bring your beautiful miracle home. Is the hospital the last your surrogate will ever see of you or will you be bringing the baby by too much. Super important to discuss. For us, we do have a consistent relationship with our Wonder Surro. Our surrogacy 2.0 will hopefully be no different. However, it is a personal decision between all parties. Some may not want to have future contact.
Surrogacy Fee and Other costs:
Tons of things to consider here and you want to explicitly spell this out in your contract. Is there a fee and how will it be distributed? One lump sum, several installments based on milestones, monthly, etc. How about a fee for each embryo transfer attempt? Additional fee for multiples? How about costs for babysitting the surrogate's children while she is pregnant? Maternity clothes? Alternative care during the pregnancy? What if the pregnancy is lost in the first trimester or second or third? Will you compensate for shortfall in maternity leave insurance coverage? Often intended parents offer to get life insurance for their surrogate as a measure to help protect the surrogate's family in case unforeseen complications arise.  How about long-term care for the surrogate for a medical condition that arises from the pregnancy. Yes, tons of things to consider. Mind spinning yet?
There are a myriad of other things as well. At the end of the day before the dotted line is signed. The best thing is to talk, understand expectations and think put yourself in the situation of your surrogate/GS. The hard lump in the throat question, how would you have handled a pregnancy if you could carry. Thinking about that helps look at the lens from both sides. At the end of the day you want all opinions considered heard and thought of, you are all in this together and it can be a beautiful journey.
Candace and I have generated a checklist that we hope can at least get you started when you are gathering information for your contract. Certainly this is not exhaustive and we would welcome any feedback about missing items that we can use to make the checklist more complete.
Download your (free of course) check list here: