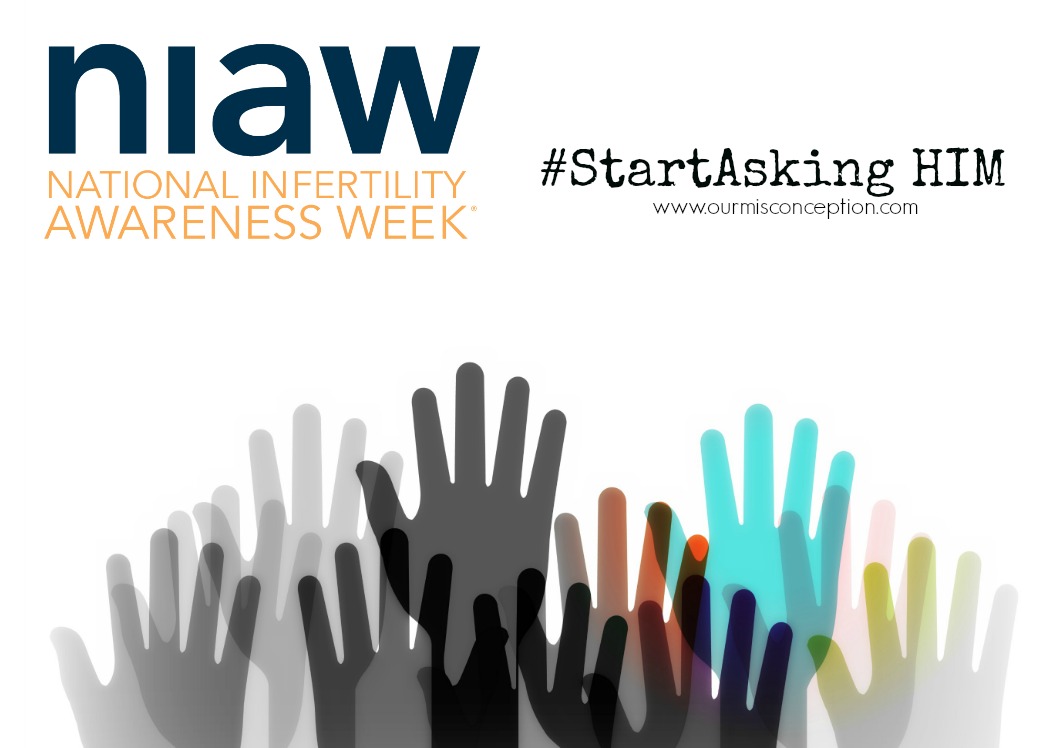 Candace- We dismiss him. His involvement is underplayed. Most of all he is not often thought of when we whisper the word infertility. In the uncertain world of reproductive treatment, it goes a little something like this: man meets cup, man adds his special sauce to said cup, he drops it off and has an awkward exchange clearly absent of direct eye contact with the nice woman in the window, he then proceeds to run like hell to the nearest exit possible. His job is done right?
He becomes Mr. Cellophane throughout the rest of the process, falling back into the shadows.
FACT
40% of infertility diagnoses are attributed to male factor (another 40% are attributed to the "she" in the equation and the remaining 20% is the ever frustrating "unexplained" category.)
We were lucky enough to fall into all 3 categories: male factor that was resolved with ICSI, female factor that was resolved by graduation from IUI to IVF, then unexplainable failure after picturesque embryo and blastocyst transfers … lucky!
With this as the backdrop, somehow his emotions get pushed to the side as the hormone stimulation starts to kicks in for her. She becomes a hormone casserole while he turns into a crisis management specialist, warding off high emotions and random and seemingly unprovoked fits of snot and tears during Hallmark commercials. This was Chris.
Often times we neglect HIS feels, HIS impact, HIS dreams of family, HIS feelings of shame.
Never once in this whole process did anyone ever ask:
Hey Chris, how are you handling everything?
Or
Does Chris need support?
This year, for National Infertility Awareness Week, (hash-taggy acronym: #NIAW) patients, professionals, supporters, survivors, bloggers, alike were challenged to pose their #StartAsking question. Oh, how we thought on this. I mean there's a hell of a lot I would like to ask. What I neglected to think of,  is what I never thought to ask. Remember the mention of Mr. Cellophane? You know the one on the sidelines, the emotional punching bag? Yep. Our question was decided.
We need to #StartAsking HIM…and this is why.
#StartAsking the new father how you can support him through the unimaginable grief as he holds and says goodbye to his stillborn baby.
#StartAsking the proud new father who newly adopted his child about parenthood, not biology.
#StartAsking the male wounded veteran who received injuries in the line of duty how you can advocate for legislation that will help him cover reproductive treatment and options.
#StartAsking the husband who is about to clear out his life savings to afford 1 shot at IVF if he wants a change from the salmon and organic tofu fertility boosting meals to a pizza, chicken wings, and beer night?
#StartAsking the man who had suffered years of infertility and is now a father to help support the next HIM, the next 1 in 8.
And with my section completed, I #StartAsking Chris to share his perspective for #NIAW.
Chris- #StartAsking…
Within the scope of what Candace mentioned, I wanted to focus on something near and dear to my belt line, male-factor infertility. Low count, the boys don't work, soldiers don't march right, broken dangly bits … no matter what euphemism you use for it, male factor infertility is one thing for sure: taboo! I have been steeped in the world of infertility for nearly a decade and I will be the first to admit that I will blush and be uncomfortable to talk to a dude that apparently "fires blanks." This is especially difficult to justify considering that my man nectar was determined to be on the low end on count and motility so yeah, I too had male-factor fertility issues. Talk about hypocritical, I had the issue and am embarrassed to talk about my issue and even more apprehensive to talk with other guys about their issues.
There is a lot of attention paid to removing the unnecessarily taboo nature of female infertility and kind of a blanket statement that we should not be ashamed or embarrassed to talk things infertility related. The reason that guys don't talk about having issues with their man-meat is for one reason only, men are fragile! "That doesn't sound right," you say. "Guys are fighting, metal bending, bomb-disarming dynamos of masculinity!" Okay, that's true but, if there is a single cinch in our armor, a crack in our foundation, a rip in our leather, the whole house of manly cards can tumble down. What could be more fundamentally damaging to a human than the inability to procreate? We have talked a lot about how effeminating infertility is for women but the same is true for men, well emasculating not effeminating … you get the idea.
So, within the thread of this year's National Infertility Awareness Week, we want to encourage lots of #StartAsking activities. If you are the loving partner of a fella with male-factor infertility, ask him what it means to him. Ask how comfortable he is to talk with others about it, how comfortable he is to talk to you about it. If you are a fella with male-factor infertility, start asking other dudes that have male-factor infertility to share with you what they are comfortable with. Maybe they aren't comfortable to share anything, in which case, you can start by sharing your diagnosis, feelings, reactions from others as a way to clear the air that this is a "safe" topic to discuss.
We read all the time that the fictitious taboo aura that surrounds infertility can be lifted by "women" being confident and bold and talking about what they are experiences.   Well, that same foreboding essence surrounds male-factor infertility and we can do the exact same thing to "lift" this superfluous hindrance from openness. Simple conversations and considerate inquiries can ultimately lead to a rewriting of how "man" is defined with respect to infertility.   So #StartAsking about how male-factor infertility has impacted those Y chromosome carriers around you and let's work to remove the stigma around it.
Thank you RESOLVE: The National Infertility Association for your commitment to awareness and public education of the disease of infertility.
Do you want to learn more about National Infertility Awareness Week and the #StartAsking campaign? Well, then just click here
To learn more about RESOLVE: The National Infertility Association, check them out here
Want a little more than just a blog post here and there? Or have questions, comments or witty quips? Email us anytime or stop by our Facebook page f to say Hi or a little #IF encouragement.