I woke up that morning. Candace and I had waited for what seemed to be an epoch. Finally, we hopped in the car and headed to UVA hospital to meet with a neuroophthalmologist, get an MRI, and then meet with my neurosurgeon. We were going to get answers, at least that was the goal.
First task, get dressed. It was 0-dark early in the morning and I groped around in the rocking chair next to the bed Candace and I slept in for my glasses. We stayed with some good college friends of ours who gave the boot to their 1 year old (he slept with them in their room) so we could stay the night with them. Awesome peeps! Anyway, I put the glasses on and BAM my vision was effed up. Everything was blurry. I didn't want to alarm Candace that my symptoms had apparently taken a precipitous turn overnight so I just finished getting ready, we said our goodbyes, and Candace drove us to the hospital. Once we had gotten on the road, I spilled the beans. "Candace, I can't really see anything." Needless to say, she was pumped (sarcasm) to hear this great development. The dust kicked up a bit higher behind us and I realized that we had an opportunity to break a land speed record on our way to the hospital. Because Candace loves to drive like an Indy 500 racecar driver, she was more than willing to risk a speeding ticket so we could get to our answers that much sooner.
First appointment of the day, neuroophthalmology. The litany of tests would take nearly half a day and they didn't disappoint. The first doctor that came in took my glasses to see what their prescription was. Then, he used the fancy eye-doctor machine to see if my vision could be corrected to 20/20 and guess what, it could! So, then he took my glasses again to re-measure them and came back in with this announcement,
"Umm, I don't know who's glasses these are, but they are not yours." Hmmm, I took a closer look and, although they were similar in design, they were distinctly NOT mine.
(Which provided the perfect opportunity for Candace to laugh a little too hard at my expense)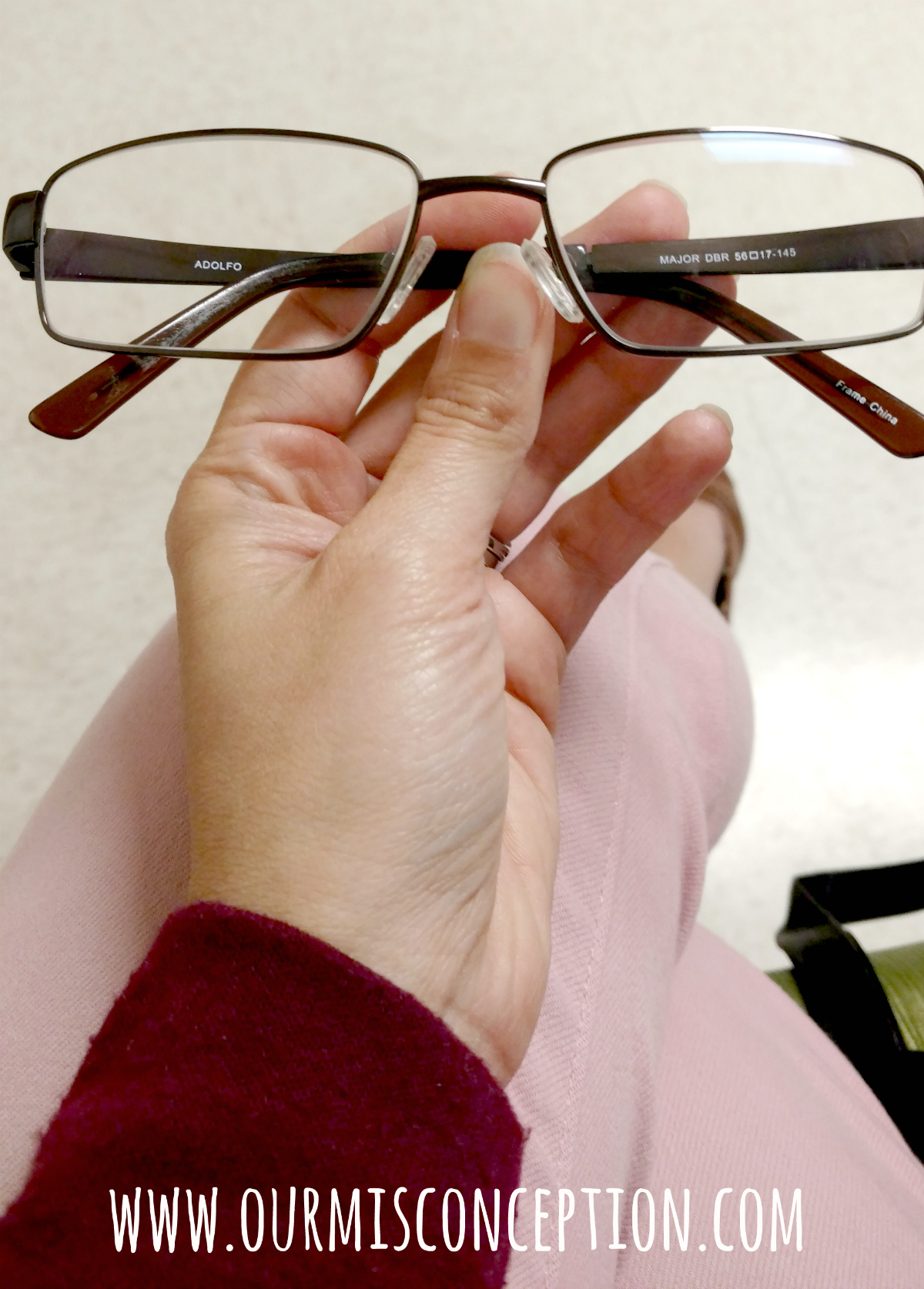 I mean, what are the chances that two people would put their glasses in an infant's rocking chair and I picked up the wrong ones? You would think the chances would be nearly impossible. Regardless, I found a way to do just that. These particular glasses belong to gentleman I will call Mr. P at the house we were staying out.
(Digression alert) Here is why Candace immediately found this more comical than normal. I have had a similar run in with the property of these friends of ours before. Back when Candace and I were still young and wild, we went to a Labor Day overnight bash along with about 40+ other people, including our friends that we stayed with for this trip to UVA. The people throwing the party were surrounded by land and had a rock quarry that was no longer in use and filled with water behind their house. Candace and I had a tent up on a hill for the night (it was a big party!). In the wee hours of the morning several of us, Mr. P. included, decided it would be a super smart idea to go skinny dipping in pitch dark. Since it was a rock quarry though, we all thought it appropriate to call it "Squinny dipping." Anyway, Candace and I decided we should probably call it a night, got out of the water, got dressed in the moonlight, and trudged up to the tent. The next morning, Candace being the morning person she is, got up before me and brought a 4-wheeler to tote me down to the house for breakfast. She recalls the first thing I uttered after opening my eyes was, "These aren't my boxers." Yep, you guessed it, they belonged to Mr. P. So boxers, glasses, who knows where my Mr. P-centered kleptomaniac tendencies will strike next. Wonder if they will ever let us stay there again.
Back on task then, the apparent symptom of loss of vision was nothing more than Chris idiocy. Okay, let's get to the meat of things. My neuroophthalmologist came in, crisp bow tie a blazing and, in a manner similar to Dr. House from his namesake's show on Fox a few years ago, he began his assessment. I could not follow much of what he said, but I did pick up on my diplopia (double vision) arising as a result of my left eye exhibiting incorrect positioning that was "exo 12 diopters." I know that means that my left eye wants to be too far away from the center line of my body, although I don't know how to measure diopters. He also said I was exhibiting a palsy in my third cranial nerve and maybe a partial palsy in my sixth cranial nerve. IMPORTANT info, both of these nerves run through the cavernous sinus. More on that later.
I got my MRI and actually fell asleep a bit. They have a rockin' MRI equipped with Pandora radio and the all-to-familiar incessant hum of the instrument. Contrast pushed through my IV, more scans, change out of my super fashionable hospital gown, and we were back in the car for our appointment with our neurosurgeon.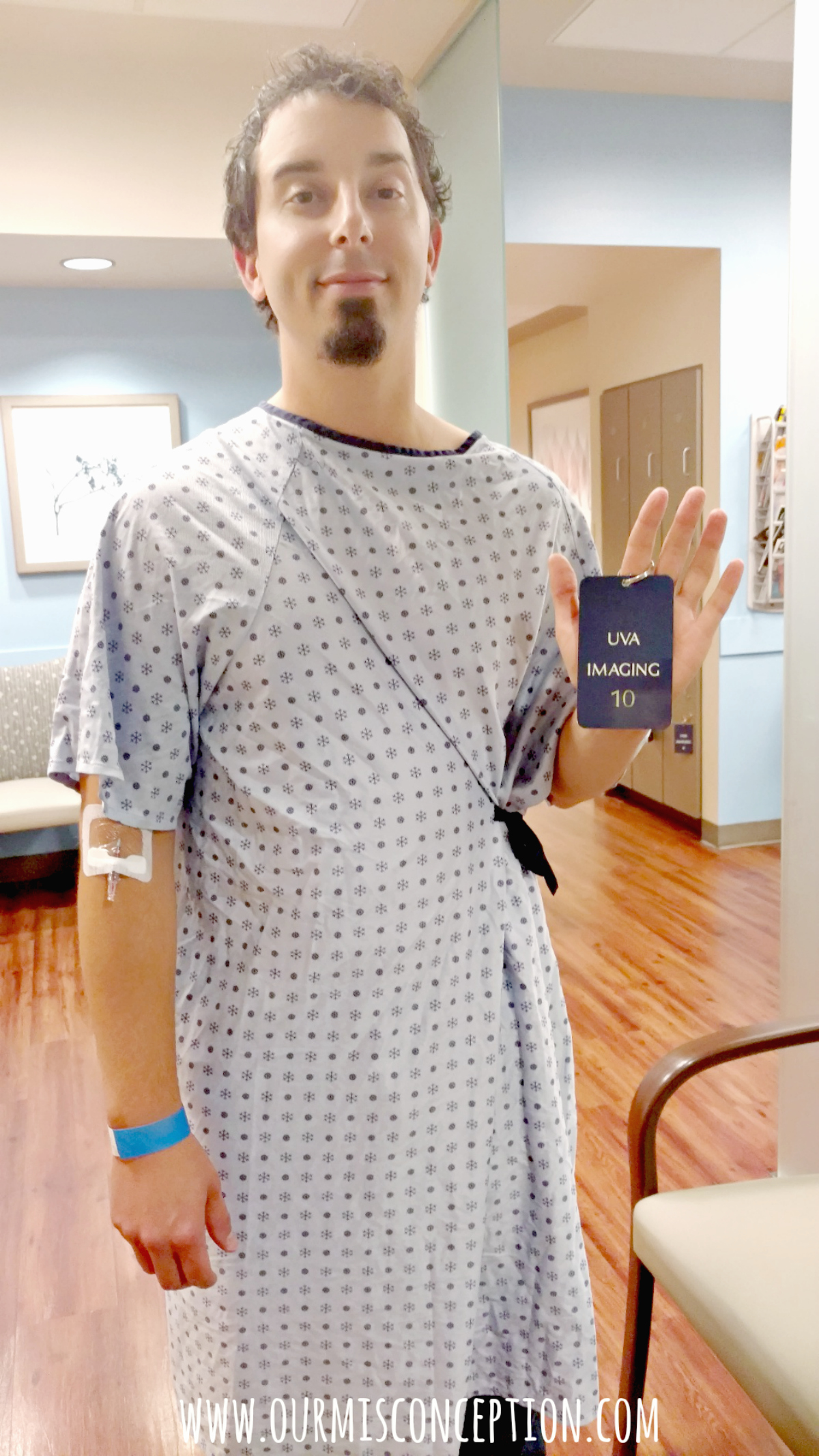 Once I was checked in, they had brought up my scans on the computer, and while we were waiting on the neurosurgeon, my anticipation got the best of me. I started looking through the scans. I saw the enhancement where the tumor had been, as well as some enhancement from what I was told arose from retraction of the frontal lobe during my surgery nearly 11 years ago. I felt like the tumor enhancement site looked bigger. Candace agreed and our hearts were literally in our mouths as we waited for the doctors. They came in and said, "Meh, everything looks unremarkable compared to the scans you have had over the last several years." I guess it turns out that I had not remembered how big the tumor was.
In talking with the doctors, I asked about the symptoms and how to know if the "scar tissue" at the surgical site was actually the tumor re-growing. They indicated that they check the scans year over year and can do some less common scanning techniques to address that. Remember the nerves in the cavernous sinus (third and sixth), the third would explain my double vision. Here is the confusing thing, my tumor was in Meclah's cave. Although this site is adjacent to the cavernous sinus, it is hard to explain why my symptoms exhibited the way they did. The partial numbness on my face does make sense as it is from cranial nerve 5 and its three branches which do run through Meclah's cave. The other nerves don't though. Strange huh? The doctors said they could not definitively say yey, ney or an exact course of care until they meet with my neuroophthalmologist and get the radiology report. "We should know something within a week or so."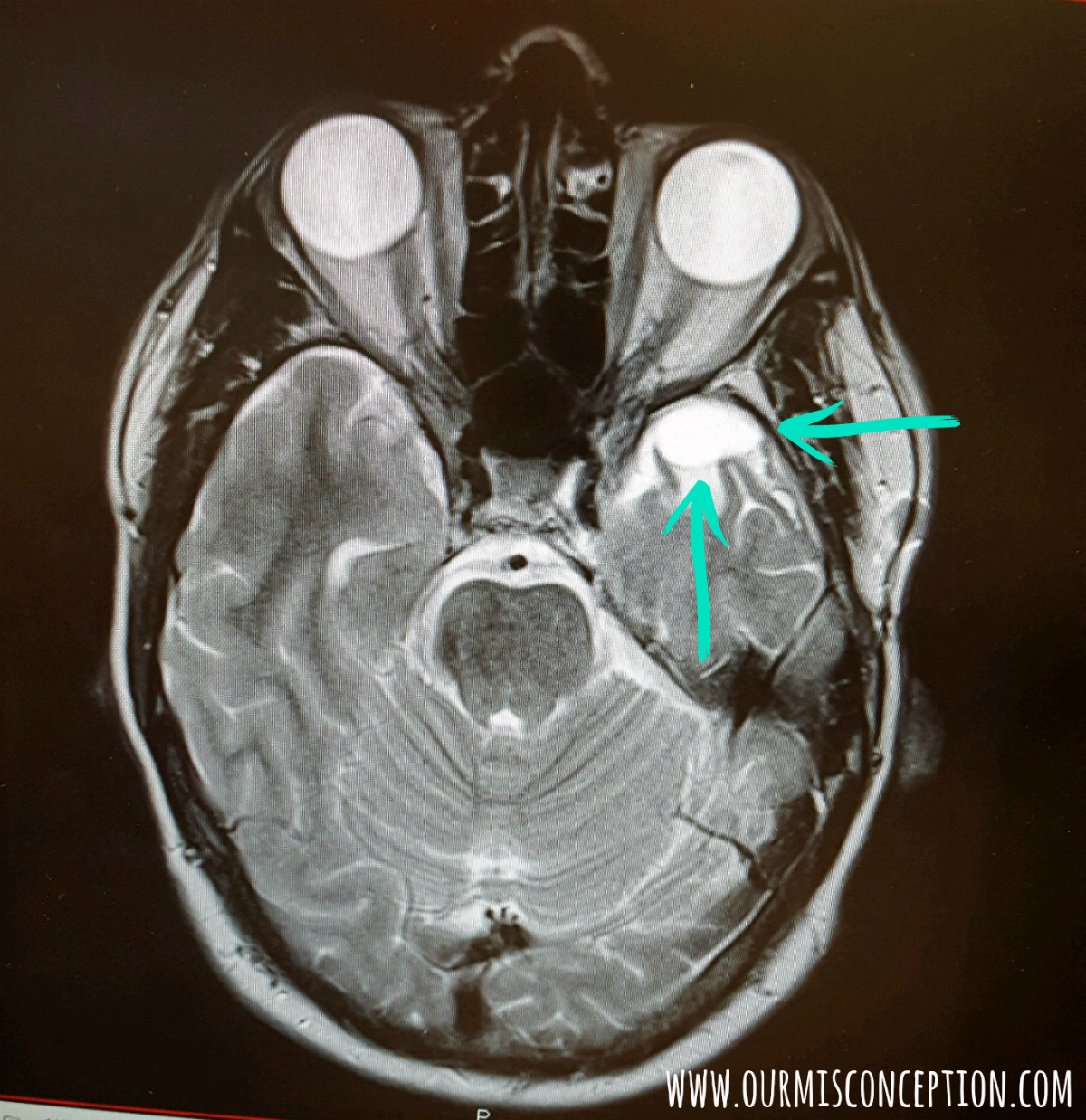 In the meantime, we should be kind of happy right? At the least we didn't hear the words we've heard before, "you need surgery like yesterday." So I will count that as a partial victory. Really though, we are frustrated at the fact we are still waiting which we have gotten pretty damn good at doing. Once you have had a brain tumor, the fear never fades away. NEVER. There's always a chance it could come back. So when double weird vision things happen, you pay attention. Until we find the smoking gun, if we will, I still have never ending headaches, double vision and mounting frustration.
For those who want to keep insta-tabs on our regular shenanigans or surrogacy journey check out @Ourmisconception on Instagram. If you want a little more than just a blog post here and there or have comments, witty quips to share, toss an email our way or drop by our Facebook page   for some feel good encouragement.