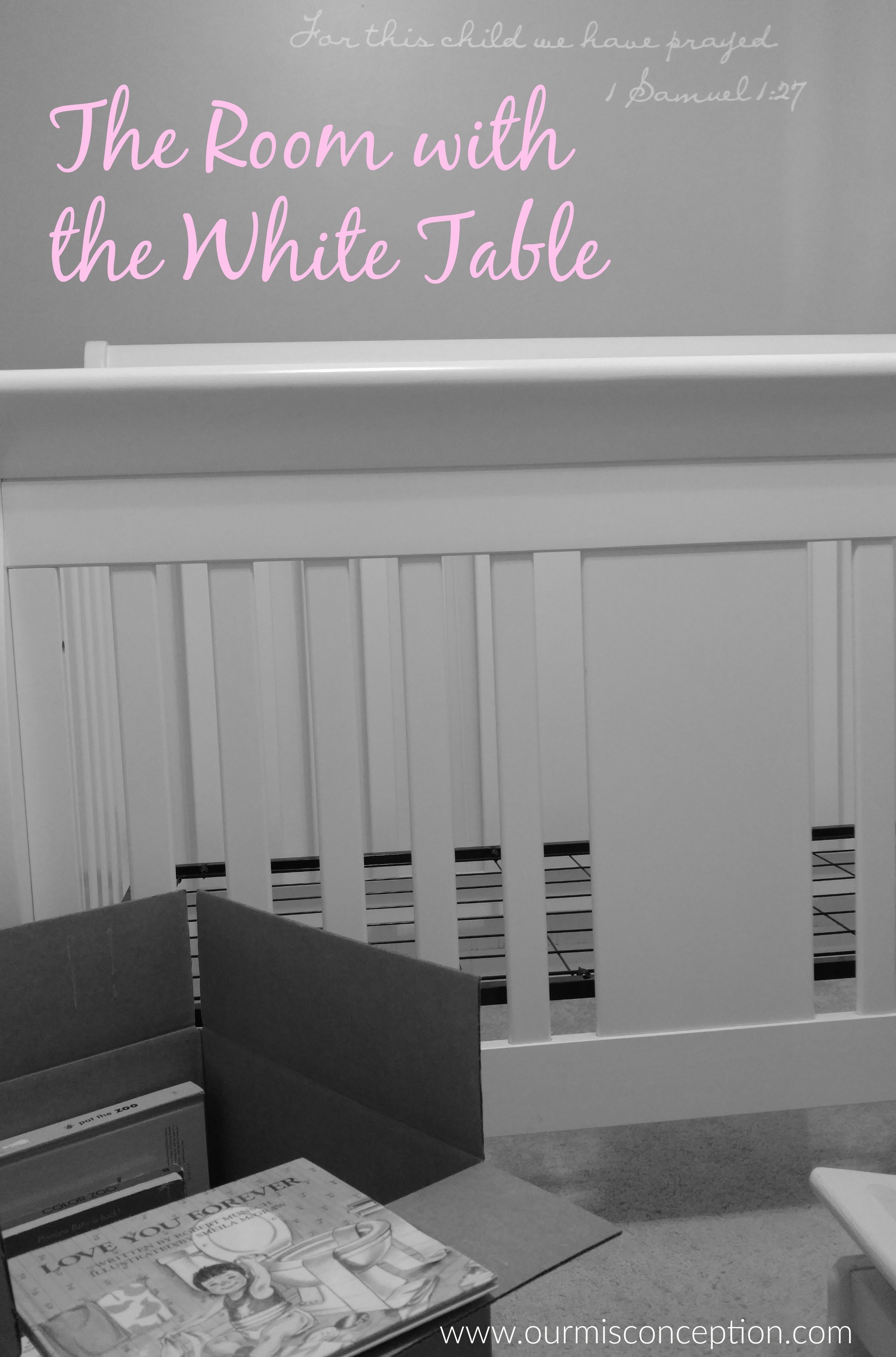 Chris-
We had a white table. It was in the room that we were using as our office that would ultimately be Jellybean's nursery. It was not a particularly interesting table and, at the time, the room was not all that notable. Yet, I can vividly remember that table and that room prior to its transformation to a nursery. The table was shoved in a corner and crowded with all sorts of things. Band-Aids, medications, needles, notebooks, a calendar, a weird metal wire with beads on it, a true mosaic of infertility. Although I would never have guessed it, when we moved recently, those memories – Candace leaned against the wall with her hip sticking out, eagerly and fearfully anticipating the 1 mile long needle filled with magma that I was getting ready to plunge in her with timid bravery – I will miss those memories so much.
"What the eff Chris? Don't you guys blabber on in your blog about how hard those times were and how much you struggled then?" Yep, we do. That timeframe on our lives sucked serious ass. No doubt about that. But, I think both of us (maybe 6000 times more Candace than me) really exemplified that 'don't let anything hold you back' spirit. I hated those nights … Time to give Candace her 4th shot today. Let me start warming up the progesterone bottle. Let me get everything set up on that white table so that I can make this as seamless for Candace as possible while maintaining the utmost in cleanliness. Let me do whatever goofy, stupid thing I can think of to distract Candace; almost always a futile effort … I remember seeing such amazing beauty in Candace. I could literally see the essence of her and knew that if it meant getting 6 more butt cheeks grafted onto her only to have progesterone shots in each one every night, she would do it. OK, not the prettiest visual, but you get the idea. Candace would do anything. I feel like I would too, but she, geesh! She would have crushed rock into diamond with her pinkies if that meant she would have a family.
You move. You think, "I have done so much to this house, in this house, while living here. So many milestones. How long will it take to create the same memories and feelings in my next house?" Who would have thought that, given everything that we experienced in that house: our first house, brain surgery, new jobs, promotions, our super awesome Jellybean and all the shenanigans involved with that … with all of that, one of the most vivid memories for me, one of the things that I know was something that I will only ever experience in that house, in that room, close to that white table is me giving Candace PIO shots.   Regardless of what the future holds, in those moments, I was able to get an ever miniscule glance into Candace's soul and I saw what could only be described as fundamental beauty.
Candace
We learned early into our packing escapades that moving with a mini human can pose a bit of a challenge. Two weeks before we were set to move out of our house, I started taking a few pictures off the wall in Jelllybean's nursery and put a few items she was not using into a box. The result, she became a toddler that walked around like a depressed mopezilla for a day. It became clear that either she would need a heavy dose of Prozac for the next few weeks, or I would need to hold off packing up her room until the day before we moved. I chose the latter and her room was the last one to be packed.
Our entire house was empty except for this room. I brought in the boxes and started packing up her things. With our home and the walls bare, the echo from the tape was louder than it had ever been before. This room was the last to empty out, yet it was the hardest one since we had lived there to fill. What once was an office, became in the words of our MTV producers "the hospital room" and then finally a nursery. It was at that point I stopped.
I sat there in the middle of the floor covered in boxes and looked around. It was a like a fast forward film projected in front of me flashing me through the memories of this room. The shots, the heartache, the hope. The film strip in my mind flashed to when we started clearing it out, when I sold that white table and assembled a crib in its place. I remember bringing our daughter home for the first time and rocking her in the chair that was no longer in the corner. At that moment, I sat in the middle of this room and I sobbed. It was the kind of crying that literally takes your breath away. Chris ran in completely confused. This was supposed to be a happy time. We were moving into our next home and I am uncontrollably crying.
Once I gained back my composure, I simply said to him "this house had so many memories." Some of these memories were horrible. Memories of feeling alone, broken, dare I say hopeless in our situations from brain surgeries to infertility to cancer scares. But it was those other memories of the in-between. The fundraising, people showing us support through our "horrible" and now the ones where Jellybean entered into our life.
Where I am going with this, is you must have a few bad memories for the good ones to make sense. Sucks right? I will miss this house of love and I will miss all of the bad memories and the amazing ones that were made in it. Before we locked the door and walked away forever, we brought Jellybean back to the empty house to say goodbye. She went to every room and waved "bye bye". Maybe it was also closure for me to so say "goodbye" too. As adolescent as it sounds, I really think it helped. So when we moved into our new house naturally we had to say "hello" to each room with the mini human. We are saying hello to new bad memories to be made and hello to the amazing ones that will be made as well and I am ready for all of them.