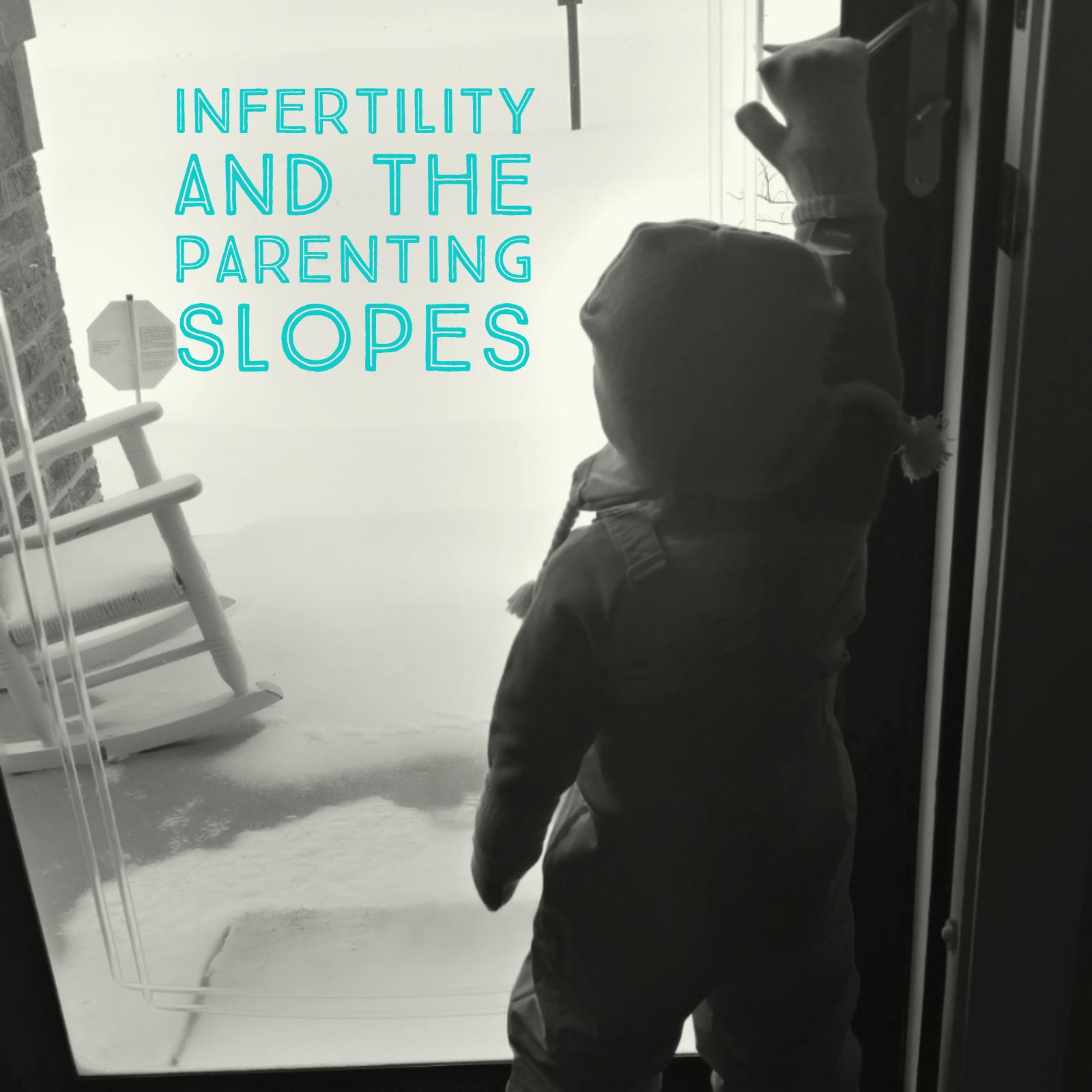 I am going to take everyone on an allegorical ski adventure to compare and contrast infertility with parenting. It is February after all. Let me set the stage: you bought some fantastical ski adventure from Groupon, arrive at the resort planning for an amazing experience (just like we plan for an amazing effortless adventure when we start trying to have a child or hold our newborn for the first time). You board a chic Snow Cat  thinking you are off for a VIP tour of the slopes. Instead, you are taken to the top of an arctic wilderness and gruffly thrown out into the fresh powder. With your bearings slowly coming into focus, you realize that instead of starting off on the bunny slopes with an instructor, you are now arms-length from a sign with a right and left arrow with two black diamonds between them.
Oh Shit! You didn't prepare for this. Sure, you talked casually about going skiing. You even looked at a YouTube video on how to ski … but this. No, this isn't what you were prepared for. With your stomach in your ski-boots along with the contents of your bladder (it would be embarrassing but remember no one else is around so it's all good) you make that first intrepid step towards the cliff.
That is how Candace and I felt when we were thrust into the world of infertility. Then, after 7 years of trying, we were blessed with our 1st wonder surro and Jellybean and found ourselves staring down a similarly terrifying alpine adventure, parenting. After having gone through all that we did, it is interesting to see how similar and different the challenges of infertility and parenting really are. To keep with our mountain-side allegory, here are three ways that infertility and parenting coincide and yet are so different.
Ski Gear:
While up on the picturesque frigid mantle of God's creation, you may be tempted to consider what gear you brought for this ski adventure: the latest parabolic skis, fancy tint-exchangeable ski glasses, uber-warm gloves powered by controlled nuclear fission reactions, and clean undies just in-case things get too real. Similarly, there is gear out there for parenting and infertility. Both will help you get down the mountain. What is different is the relative magnitude and availability. For parenting, you could spend every dollar that has ever been printed and still not purchase everything out there for parents. For infertility, there are a few emerging resources but there are certainly fewer choices. Parenting resources are also incredibly available; from teacher stores to libraries to almost half of every Barnes and Noble, you have it at your fingertips. You can search books to stop nose-picking and find a myriad of nearby stores that carry books on that topic. That's not the case for infertility though, trying finding books on how to deal with implantation issues or low sperm count and the tangible, hold in your hand choices, will become far more scant. Don't get confused though, you can have the best, fanciest ski gear (and parenting/infertility gear) that is out there and still, you have to be on those skis to get down the mountain.
Since this blog is dedicated to fertility issues, I thought it would be best to offer a next step for each topic as it related to infertility. In this case, Candace and I found that dedicating a space in our home to our infertility supplies and resources was very helpful. We had our injection journal and medicine collocated with our fertility log, expense ledger, and anything else we acquired through our journey. It was our one-stop shop and, although it often seemed like things were out of control, at least we had an infertility headquarters to try to put out our fires of uncertainty.
Wipe-Out:
You did it. You started down the mountain. It is scary as crap, every turn you catch an edge, "was that a bear?" You are certain the alpine vultures are circling and then it happens … Crash! You bite it, hard! Powder flies up, and down into crevices you didn't know were accessible. You are splayed out in the snow and trying to decide what to do next. This is where parenting and infertility are possibly the most divergent. If you are parenting, you have no choice, one direction, a single solution: you get back up. You may be getting tugged back up by a toddler wanting a snack or jolted by a crying, teething infant. Either way, you are getting up and continuing down the mountain. Infertility though, you have a choice and that makes it so much harder! You get up, of course, but you have the choice of continuing down the mountain or walking away. Both paths are hard; both decisions are difficult. Ultimately, it is up to the couple (or individual) to decide what to do.
What to do next for this one is incredibly personal. You can retire your ski gear and wait for a snow mobile to bring you down. You can get back in your bindings and continue forward. Both options are equally reasonable and equally difficult. Regardless of which direction you choose, make sure that you retain a degree of introspection, retrospection, and prospection and keep your communication lines wide open with your significant other. You are on the journey together.
The Ski Lodge:
You're battered, there are branches and birds hanging out of your hair. You tell everyone in the lodge that the brown stains on your ski bib are from dirt … sure they are. You look rattled, your voice is breaking, and it is clear that your sanity is teetering. One thing is clear, you need to sit at a table with people that will support you. This is true for parenting and infertility. The greatest difference is that infertility has a taboo nature to it (although that is slowly changing). People are typically more comfortable talking about how to potty-train your child, when to feed them haggis, or the most preferred diaper for your baby. That will certainly be different if you talk about a diminishing egg reserve, sperm motility issues, or how you are working to resolve issues related to PCOS. So, what do you do?
Find the right table in that ski lodge. Reach out to your family and friends. They may know people that have gone through similar situations that they could connect you with. Also, reach out electronically to RESOLVE. One of their primary functions is to serve as a resource for those battling infertility. They will be able to help identify people in your area that you can interact with through support groups, advocacy, walks, and a myriad of other avenues.
I love skiing. I love Candace and our Jellybean. I love the opportunity and perspective that our journey has given me and I hope that, even if you don't like cold weather, you will be able to get down your mountain.
If you want a little more than just a blog post here and there or have questions, comments or witty quips to share with us, toss an email our way or stop by our Facebook page   for some  #IF encouragement.