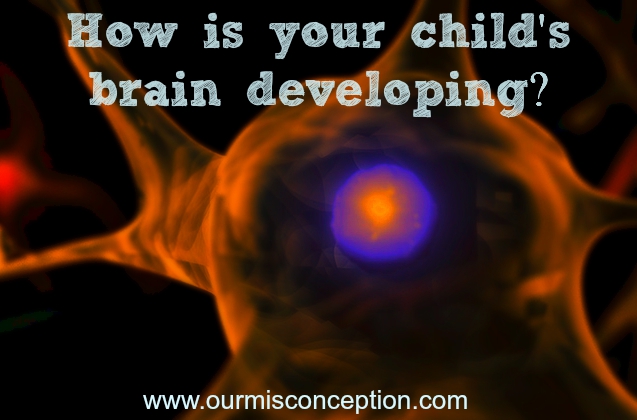 100 Billion neurons connected to one another in a rapidly developing neural network. Each neuron building connections to up to 10,000 other neurons, firing electrical pulses up to 50 times a second across a distance that is far less than the width of a human hair. Working to encode information at a blistering pace, chemicals are transferred causing cascade reactions across the body. [You can learn more about the brain and memory here.] This is what is happening as your baby's brain is developing … and you thought you had a busy day!
Although with today's technology it seems impossible to imagine, the human brain is still considered to be the world's best, fastest computer. Before you go getting all cocky, bear in mind that each of us has one of these supercomputers positioned just above our shoulders … though it does seem that sometimes our power cord becomes unplugged. What has been amazing recently, is watching the result of all those synapses firing and connections being forged in Jellybean's noggin! She is starting to communicate with us, using sign language [Check out how to do that here.], she is starting to copy us (for example she takes anything that looks like it may be a phone and sticks it up to her ear like she is talking on it), and she is LEARNING! Her brain cells are firing, forming connections, and building networks faster than Candace and I can keep up. It is awesome to watch, and even more rewarding to take part in. She is exercising some serious Baby Brain Power!
Today, she did something that we think was really impressive, she tried to get food from us. Okay, I know what you are thinking, that is not that impressive; dogs, skunks, wookies, birds, squirrels, and in-laws do the same thing. True, but it was how she did it. She was sitting in her Bumpo on the floor, content reading a book, when she saw the tray. Somewhere in that grey matter, she realized that if that tray is on that Bumpo, she gets food. So, she got out of the Bumpo, grabbed the tray, and went looking for us. Then, she walked back to the Bumpo, set the tray down in front of it, and sat down again. Crazy right! As an aside, I don't think Candace would have been impressed with me if I did that … but that is what marriage counseling is about right? But back to Jellybean, that is a fairly complex thought. It wasn't "Sit and I get food," not "Sit here and get food," it was "Sit here, get this person to put this tray in this position, then get food." I was impressed.
Of course, Candace and I want to do everything we can to foster this learning, pack as much baby brain power in there as possible. That seems to be one of the main cruxes of parenting, provide Jellybean with as many opportunities as possible. We make her sign "more" and "please" before she gets more blueberries, her absolute favorite food. We try to foster her brain to fire on all cylinders. As an aside, check this out about that belief that our Jellybean is only using 10% of her brain. One interesting point though, is that our adult brains don't work the same way that young children's brains do.  Apparently, children think local, no they don't only think about shopping at a farmer's market or buy overpriced candles that were made in someone's bathtub down the street. They process situations and stimulus by activating relatively local areas of their brain. Adults are better versed in this practice and can draw connections from much greater distances. The article linked above likens this to the "6 degrees of Kevin Bacon" game. So, in an effort to make sure that Jellybean was a whiz at 6 degrees of brain synapse connections, I looked up a few resources online. I have a few of them linked below but found out some incredible things. For one, Jellybean is building something like 700 new connections a second! Also, once she is 6, she will have more connections than at any other point in her life. Yep, she will start losing connections. Just like you and I are now, at the staggering rate of 10,000 a minute … what was I talking about again? Thus, now is the critical time to make sure she has as many connections built as possible. Please check out some of the links below for more information, but there are a few things I gleaned from these websites to consider:
Babies learn best when relaxed so make sure that you are doing everything you can to reduce stress or unwanted stimuli in their environment. We play lots of music and very little TV.
Babies interact with the world through all of their senses. That is why they put things in their mouths, want to touch everything, and seem to be looking at everything around them. Chances are, they are seeing something that they have already seen 100 times a whole new way the 101st
Talk to your baby, read to them, and respond to them. This not only builds their baby brain power, but it also builds security and emotional connection which further fosters an educational environment for your little pupil.
Check out these sites for some more ideas and information on how to expand your baby brain power:
http://activeforlife.com/building-childs-brain-like-building-house/
http://blogs.unicef.org/2014/05/14/how-childrens-brains-develop-new-insights/
http://www.expat.or.id/info/nurturingbrainconnections.html
https://thevivacious7.wordpress.com/2007/05/15/making-connections-helping-children-build-their-brains/
http://stateofopportunity.michiganradio.org/post/five-things-know-about-early-childhood-brain-development