Does this image look all too familiar to anyone?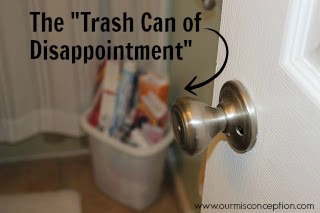 I use to call this my "trashcan of disappointment" read our very first throwback post here. That white plastic receptacle unit that resided in my bathroom corner would be the bane of my existence. Every.Single.Month I would hopefully and yet reluctantly, buy a few different boxes of ovulation kits and tests.
OPK Surge- SWEET! "Hey you, (Chris, just to be clear)… the one with the sperm and dangly bits, get over here fella!" The baby making triathlon would begin and the result would be Chris would feel like a piece of man-meat that was alive for one single reason which was procreation and I would end up with my legs and butt in the air which everyone knows is oh-so-sexy after you have just done your business.
Two weeks later- I stalk the bathroom. Pause, as I walk passed it for the 5th time. Should I test? AH, it's probably too early I would tell myself… so I did what any person would do with my conundrum, I Google it. Despite the hodge podge of yes, no, and maybes, I proceed cautiously with hope and excitement.
This is when it would begin. I would feed that trashcan test after test, box after box. Cursing each one for being faulty. Perhaps it was late implantation or a bad few batches of tests? As the trash can would slowly fill day after day my hopes of being a mom would start to empty. Then when the bucket of disappointment would reach max capacity, my period would come. Which was the pin to the already deflated balloon of hope I had for that month. I always somehow still held on that very thin string of hope… for over 6 years, I would watch month after month that trashcan fill up. Mock me and represent failure. Yet, still we would push forward.
Now, that same trash can of disappointment is in my bathroom still. Empty. No more OPKs or pregnancy tests, or tampons too overflow with. It is empty. My arms however they are not. They are filled with a wiggly, giggly almost 1 year old. This trashcan not only represented years of tears, but it also represented something much more. It is almost like a trophy as odd as that sounds. I never was able to test positive on a pregnancy test. That bane of my monthly existence never saw the glorious light from double lines. My gestational carrier though, she did test positive! She selflessly helped me defeat the trashcan of disappointment.
So for those who have their own trashcans, allow us and my good friends at Fairhaven Health, fill them up with hope and BFPs. Literally! We have partnered together this week and they have generously given me a Fertility Pack to give-away. Man, I love these guys. Really, (mind you this is not a paid post) they care and they have some great products for damn near everything you could ever need for boosting your fertility, tracking ovulation, and HPKs for tracking the ever-elusive BFP. It is clear in all of my interactions with them that they truly seek to make your family building dreams into a reality. They asked me, "what do your readers need?" My answer: a baby. But since they can't do that, how about some Fertilitea Tea and a BFP Tests Strips Little Bundle? Thank you Fairhaven Health, YOU ROCK!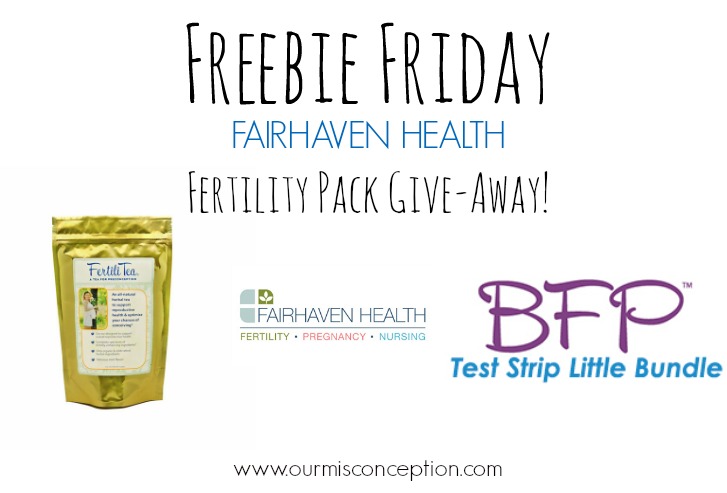 The Fertility Pack Includes:
BFP Test Strip Little Bundle: 15 Ovulation Strips, 5 pregnancy test strips
Fertilitea: check out the description here.
Although the price for both of these products is extremely reasonable (for those who may not win the giveaway). We all know free is even better!! So here is how you can get your hands on the Fertility Pack Give-away:
Go to the give-away on Raffle Copter below and complete as many tasks as you are comfortable doing. The more you do, the better your chances. Good luck and we will pick a winner next week!